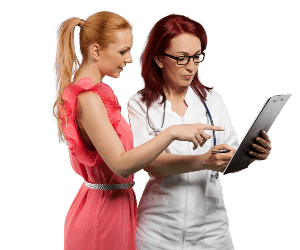 Congratulations – you're about to undergo that cosmetic surgery procedure you've been dreaming about!  Whether you're getting a youth-enhancing facelift or enhancing the size of your bust, you're ready to feel that rejuvenating boost of confidence and self-esteem in your life.
But before you sign the dotted line on a contract, it's important for you to make the most of your consultation with your cosmetic surgeon.  After all, this is one of the best times to raise concerns about your cosmetic surgeon or ask questions about what you can expect from the procedure.
With that in mind, let's take a look at the best questions to ask your cosmetic surgeon prior to your procedure:
Are you board certified? This question should have been answered during your online research phase; however, if you didn't get the chance to check out your plastic surgeon's certifications, ask during the consultation.  Your cosmetic surgeon should be able to provide you with that information; if the Board doesn't seem legitimate, end the consultation and find a more qualified professional.  Ideally, your cosmetic surgeon should be certified by the American Board of Cosmetic Surgery.
How experienced are you with this type of cosmetic surgery? Even a board certified cosmetic surgeon might not have a great deal of experience with the type of procedure you'd like to undergo.  Ask the cosmetic surgeon for a few before-and-after portfolios of the surgery you'd like to undergo.  The more expansive the portfolio, the more experienced the cosmetic surgeon.  When looking at these before-and-after photos, make sure the results are aligned with what you're looking for.
What type of anesthesia do you offer? Many cosmetic procedures can be performed under local anesthesia, which greatly reduces the risk and complications associated with your procedure.  If your treatment requires you to go under general anesthesia, ask what kind of anesthesia will be offered, and who will be administering it.  A board certified physician anesthesiologist or nurse anesthetist should be the one providing you with this type of anesthesia.
What can I expect from recovery? You need to have a firm understanding of what you can expect from your specific recovery, including what you can do to stay healthy and maintain your results.  Your cosmetic surgeon can provide you with a detailed plan of what your recovery will be like.
Contact The Langdon Center for Laser & Cosmetic Surgery Today
Ready to schedule your cosmetic surgery?  Then it's time to schedule a consultation with Dr. Langdon at The Langdon Center for Laser & Cosmetic Surgery in Guilford, CT. Call 203-745-0340 to learn more.