Laser Eyelid Lift (Blepharoplasty)
Blepharoplasty (eyelid lift) is a surgical technique used to improve the appearance of the upper and lower eyelids. In the upper eyelid, excessive skin can produce large folds that if extreme can actually compromise the line-of-sight. There may also be bulging of orbital fat pads producing a puffy look. In the lower eyelid, bulging fat pads are usually the main problem.
In laser blepharoplasty, the CO2 laser is used as a surgical instrument in place of the traditional scalpel blade.
Candidates For A Blepharoplasty
The best candidate for eyelid surgery is men and women who are physically healthy and have realistic expectations. Any individual that has bulges, bags or drooping lids will see significant results after Laser Eyelid Lift Surgery.
*Individual Results May Vary
The Blepharoplasty Procedure
The length of the Blepharoplasty procedure depends on whether both lower and upper eyelids are treated. The average treatment time is 90 – 120 minutes. Upper and lower eyelids can be treated together or done separately. An anesthetic is used during the procedure and most patients experience little to no discomfort during the procedure. Post-operative pain is mild; most patients require only Tylenol and ice packs to ease any pain or discomfort.
Benefits of Laser Blepharoplasty include:
Vibrant, youthful eyes.
Improved visual field (if upper lid sagging was impairing vision)
A more alert and energetic appearance.
Blepharoplasty Consultations Available
What Results Will I See?
Most patients experience minimal bruising, swelling or bleeding and are able to resume light activities within 2-4 days of the surgery. Post-operative discomfort in most patients is easily managed with the use of a pain reliever and ice packs. There is no scarring when the lower lid is treated and only a thin scar on the upper lid that in most patients nearly disappears a few months following the procedure.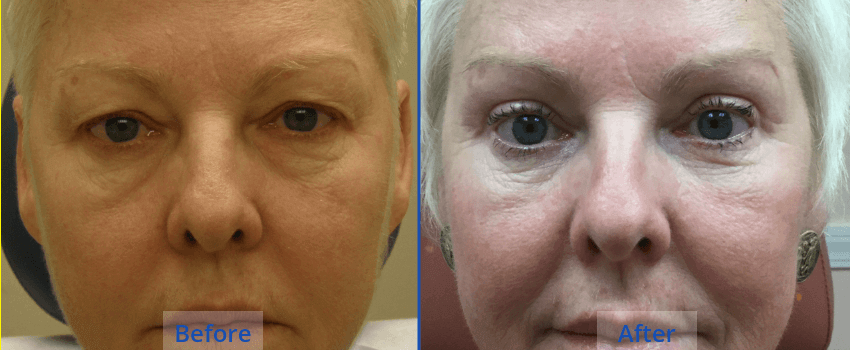 *Individual Results May Vary
Take The First Step – Request A Consultation
To learn more about getting a Blepharoplasty or to schedule your consultation with Board-Certified Cosmetic Surgeon Dr. Langdon, please fill out the form on this page or call The Langdon Center at  203-453-8625 . We look forward to working with you! The Langdon Center serves patients in the  Guilford & New Haven, CT areas.
"Blepharoplasty was not painful, minimal discomfort during and afterward. It took me about two weeks to feel comfortable being seen in public. One of my estheticians was so impressed she asked for contact info. A longtime friend who saw me a month before the procedure said I looked completely different in a good way."

-Happy Patient
"I had been thinking about an upper eyelid blepharoplasty for a few years.  After seeing an ad in the local newspaper for a free seminar I thought what do I have to lose?  I was very impressed with the before and after photos and decided to bite the bullet.  The day of the surgery I was very nervous but the nurse set me at ease with her care and humor.  Dr. Langdon and the nurses explained in detail what they would be doing which set me even more at ease.  The procedure and recovery were painless and fairly quick.  One month after the procedure there is still a bit of swelling on the eyelids but not noticeable to the public.  I could not be happier with the results so far. "

 
*Individual Results May Vary
Frequently Asked Questions