Droopy upper eyelids, the medical term for which is dermatochalasis, results from excess skin. This problem often worsens with aging and results from sagging of the eyebrows and/or volume loss around the eyelids. The droopy lids can make you appear tired and older than you actually are. In addition, droopy eyelids can be more than a cosmetic concern. In severe cases, the drooping eyelid skin can cover part of the pupil and interfere with vision. The best way to remove the excess skin of the upper eyelids is a laser blepharoplasty.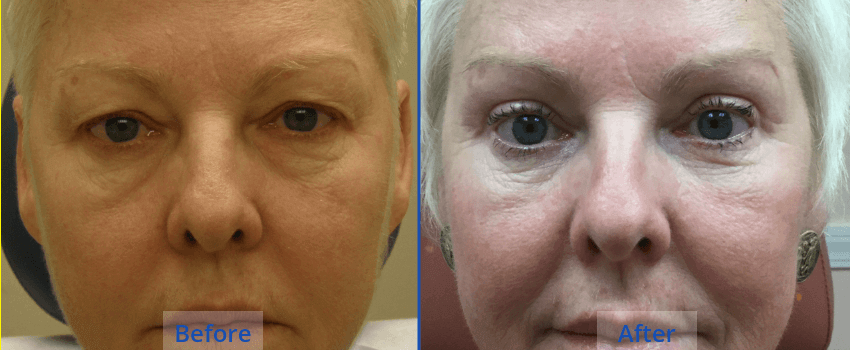 Laser Blepharoplasty
Laser Blepharoplasty is a surgical procedure in which Dr. Langdon uses a CO2 laser to excise the excess skin of the upper eyelids. The difference between Laser Blepharoplasty and conventional blepharoplasty is the use of the laser instead of a scalpel. Unlike a scalpel, the CO2 laser seals blood vessels during surgery, which improves the surgeon's view of the eyelid anatomy during the procedure and results in less post-operative bruising and swelling. This technique allows patients to look better sooner after the surgery; most patients are fully recovered within a week.
The result of a Laser Blepharoplasty is more vibrant, youthful-appearing eyes and a more alert and energetic appearance.
To learn more about Laser Blepharoplasty or to schedule your consultation with Board-Certified Cosmetic Surgeon Dr. Langdon, please fill out the form on this page or call The Langdon Center at  203-745-0340. We look forward to working with you! The Langdon Center serves patients in the  Guilford & New Haven, CT  areas.