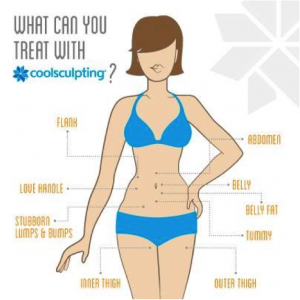 Did you know that over 1 million CoolSculpting procedures have been performed since the technology was invented? It's true! Since passing the 1 million mark, it's undeniable that FDA-cleared CoolSculpting is the leader in non-surgical, no downtime fat reduction. And, The Langdon Center is the premier destination for CoolSculpting in Connecticut!
"Here at The Langdon Center, we are the premier destination for non-and minimally invasive body contouring in Connecticut," says board-certified cosmetic surgeon and dermatologist, Dr. Robert Langdon. "With safe, effective CoolSculpting, we can reduce unwanted fat on the abdomen, flanks, and back as well as the inner and outer thighs. For certain Fairfield County, New Haven County and Middlesex County patients, CoolSculpting may be an alternative to liposuction."
As featured on CBS This Morning, ABC News, The Doctors, and E! News, CoolSculpting's unique technology uses controlled cooling to freeze and eliminate unwanted fat cells without surgery or downtime. The results are lasting and undeniable.
Curious what CoolSculpting can do for you? Visit www. Fatfreezect.com to view CoolSculpting before and after photos, learn the answers to frequently asked questions and schedule your consultation. Call (203) 745-0340 or email lynn@langdoncenter.com.