Thanks to the PicoSure laser, Thanks to the PicoSure laser, tattoos don't have to be permanent anymore. This revolutionary laser tattoo removal treatment can completely remove tattoos you no longer desire. Unlike traditional tattoo removal treatments, PicoSure works effectively on most skin types and tattoo colors. It can remove your tattoo with minimal discomfort in minimal time. For more information on how PicoSure works and how much it costs, keep reading.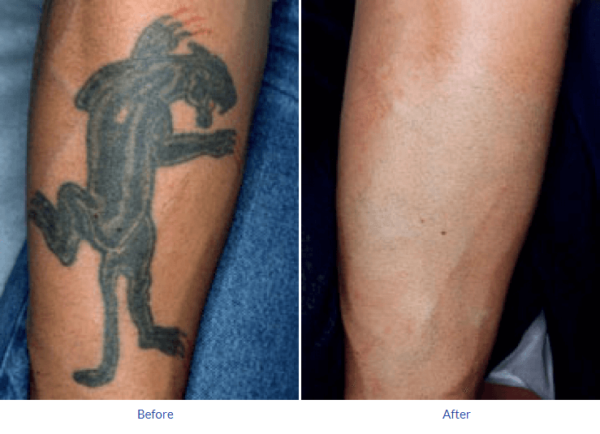 How PicoSure Works
The PicoSure laser transmits ultra-short pulses of photomechanical heat energy into the skin. These pulses demolish the tattoo ink under the skin. Once the ink particles are broken apart, the particles are naturally absorbed in your body and the tattoo literally disappears. Because picosecond-range energy pulses more effectively break down tattoo ink particles than conventional laser tattoo treatments, tattoos fade quicker and with fewer treatments.
PicoSure's cutting-edge Pressure Wave technology is able to deliver laser energy up to 100 times faster than traditional tattoo removal lasers, which depend on heat to destroy tattoo ink. PicoSure works effectively on multi-colored tattoos, including those with blue and green, hard-to-remove black ink, and stubborn tattoos that were previously treated in the past.
A PicoSure treatment usually lasts 10 minutes. The number of treatments you may need will depend on the type of ink used, the size of your tattoo, its location on your body, and your lifestyle habits.
After PicoSure treatment, you can enjoy beautiful skin without unsightly tattoo removal scars. All you have to do is wait a few weeks between treatments, moisturize daily, and wear sunscreen.
Is PicoSure Affordable?
The size of your tattoo, as well as its color density and range of colors, can affect the overall price of treatment. Because fewer treatments are required, PicoSure is definitely an affordable option compared to conventional laser tattoo removal. We can work with you to design a payment plan that aligns with your budget and lifestyle needs.
Schedule a PicoSure Consultation
For more information on PicoSure and how much it may cost you, we encourage you to schedule a consultation at The Landon Center in Guilford, CT. Call us at 203-453-8625 or fill out or convenient online contact form.