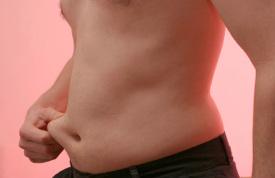 Cosmetic surgical procedures for men are on the rise! Although many men are undergoing a variety of treatments and procedures at The Langdon Center, such as BOTOX®, dermal fillers, facelift, eyelid lift (blepharoplasty) and chin augmentation (chin implants), the most popular procedure is certainly liposuction.
Recent reports suggest that liposuction rates for men rose 28% in 2013, according to the British Association of Aesthetic Plastic Surgeons. One clinic even reported a 150% rise in men booking these procedures. "The increase in men having the procedure has been dramatic. I'd say I now treat just as many men as women," the physician interviewed for the report stated.
The Langdon Center offers minimally invasive laser liposuction as well as tumescent liposuction to reduce areas of unwanted fat that are traditionally male problem areas, such as "belly bulge" and excess fat on the chest, also known as male breasts or gynecomastia.
Minimally invasive SlimLipo™ uses a laser to melt fat and then permanently removes it with a micro-cannula, a small suctioning device. Melting the fat reduces the need for larger incisions, resulting in no stitches and less downtime, while still being extremely effective. Another option is ProLipo™ laser-assisted liposuction, which uses two lasers to reduce bruising and increase tightening of the treated areas. This tightening feature makes ProLipo™ a great choice for patients who may have more mature skin and who desire tauter, younger-looking skin in addition to fat reduction.
For those who suffer from abdominal fat but desire a completely non-invasive option, The Langdon Center is proud to be the premier provider of CoolSculpting® on the Connecticut Shoreline and throughout New Haven County. CoolSculpting® eliminates fat cells by freezing them and results in a 20–25% reduction in fat cells in the area(s) treated.
To learn more about how The Langdon Center can help you achieve a slimmer yet masculine figure, schedule your consultation today by calling 203-745-0340 or emailing lynn@langdoncenter.com.