Sun Protection Factor (SPF) is a number that indicates how many times longer, with protection, the skin may be exposed to the sun before sunburn damage results. For example, a properly applied SPF 15 sunscreen will prolong the time it takes to sunburn by 15-fold. An SPF 30 sunscreen will block twice as much UV radiation as an SPF 15 sunscreen.
To maximize protection, always apply sunscreen 30 minutes before exposure and reapply often, especially after swimming or perspiring. Sun protection is equally important year-round and in all climates. Remember to apply sunscreen for all outdoor activities, especially during the peak hours of 11:00 AM to 3:00 PM. Water, snow or ice environments demand diligent use of sunscreen because the sun is especially strong when reflected. Don't forget to use sunscreen moisturizing protection for your lips, which can burn and chap from exposure to sun, wind and salt water.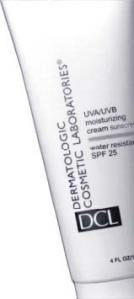 Please stop by our office or call us at 203-745-0340 to inquire about the full line of top quality sun protection products from DCL.
Everything You Need for Facial Skin Care
For facial skin care, we now have available the Anti-Aging System. This group of five complementary products is formulated to address every symptom of photo-aging. There are five sophisticated components to the system:
Balancing Cleanser (used twice-a-day)
Eye Refining Matrix (used twice-a-day)
Skin Renewal Complex with SPF 20 and anti-oxidants (used in morning)
Vitamin Infusion (used in evening)
Hydrating Serum (used twice-a-day) for maximum moisturizing