Cellulaze™ Cellulite Reduction Treatment
Tired of battling stubborn cellulite? Good news – The Langdon Center is proud to now offer Cellulaze™ laser cellulite reduction treatment in New Haven County, Connecticut.
Candidates for Cellulaze™
The best candidates for Cellulaze are men and women who are physically healthy and have realistic expectations. Any individual who has noticed cellulite on their body and is unhappy with the appearance.
To safely and effectively reduce or get rid of the appearance of cellulite, we must first understand what causes this problem. Cellulite can develop as a result of weight change or aging as well as hormones and genetics. As those who suffer from cellulite know, it isn't always manageable through diet and exercise. Cellulite occurs when connective tissue bands beneath the skin stiffen while the surrounding fat cells become larger. This combination creates the dreaded dimples or "cottage cheese" texture and appearance of cellulite.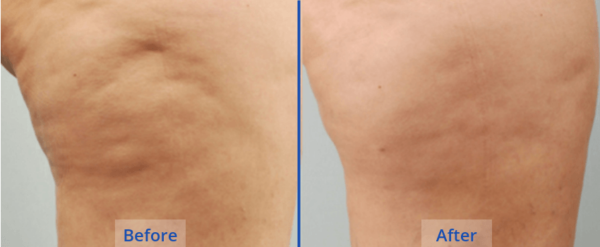 *Individual Results May Vary
*Individual Results May Vary
Procedure
Cellulaze™ laser treatment for cellulite is the only procedure that targets cellulite at its source: beneath the skin, rather than superficially on the skin's surface. This minimally invasive, laser-assisted procedure is performed through extremely tiny skin incisions (no stitches are needed). Laser energy is used to liquefy and gets rid of dimples of fat while promoting collagen production for smoother, cellulite-free skin.
This quick and easy solution to fighting cellulite can dramatically reduce or get rid of dimples in as little as one minimally invasive treatment! Cellulaze™ cellulite removal treatments in Guilford, CT usually take 1–2 hours.
Local anesthesia or a numbing solution will be introduced to the area being treated for patient comfort. This extremely safe procedure uses local anesthesia, meaning there are none of the risks associated with procedures performed under general anesthesia.
Results
Significant results can be seen after just one treatment. The appearance of cellulite will continue to improve over the following months. A healthy diet and exercise can help maintain your results. Patients may return to their normal daily activities 1–2 days following their treatment. Any strenuous activities should be avoided for 1–2 weeks. Slight redness, bruising or irritation may occur at the incision sites but is easily manageable. Any concerns will be addressed during your consultation.
Take the Next Step – Request A Consultation
To learn more about getting a Cellulaze™ or to schedule your consultation with Board-Certified Cosmetic Surgeon Dr. Langdon , please fill out the form on this page or call The Langdon Center at 203-453-8625 . We look forward to working with you! The Langdon Center serves patients in the Guilford & New Haven, CT areas.
*Individual Results May Vary
Frequently Asked Questions