Natural Breast Augmentation
Natural Breast Augmentation provides safe and lifelong volume augmentation of the breasts using only autologous (from the same person) fat. A special liposuction method is used to remove unwanted fat from problem areas. The harvested fat is then purified and used as a fat graft to augment the breasts.
Certainly, women who prefer a more natural look, especially if they have areas of unwanted fat and are candidates for liposuction to reduce these areas. Women who want a more aggressive increase in breast volume or who may be so thin that they lack adequate donor fat would be better candidates for breast implants.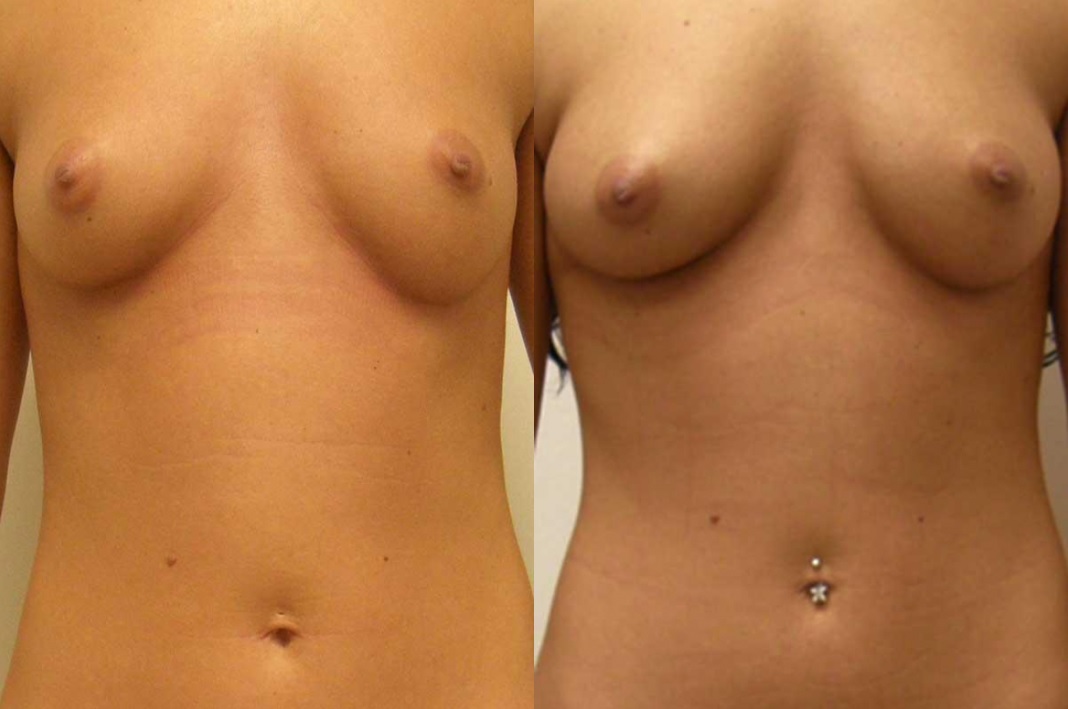 *Individual Results May Vary
Procedure
Natural Breast Augmentation is an exciting new procedure that avoids artificial breast implants. We use the Body-Jet liposuction system to remove unwanted fat from areas such as thighs and abdomen. A special Lipo-Collector system is used to purify the fat tissue; the fat cells are then injected into the breasts to provide an everlasting volume augmentation.
Artificial breast implants are very effective at increasing breast volume but unfortunately can produce unnatural looking results, especially if done too aggressively. Breast implants can result in an overly rounded appearance with sharp edges between the implant and the surrounding chest wall. Many women prefer a more natural result without the obvious appearance of breast implants. With Natural Breast Augmentation fat grafting is used not only to increase breast volume but also to taper the areas surrounding the breasts. Natural Breast Augmentation can even be used to improve the appearance of existing breast implants, for example, to add cleavage.
In any fat grafting procedure, it is critical that the harvested fat is of the highest quality. The Body-Jet delivers controlled bursts of salt water (actually local anesthetic solution) directly to fat tissue during liposuction. This water jet gently "washes out" fatty tissue as separated clumps of fat cells (including the beneficial stem cells that reside within the fat tissue–see below). The aspirated fat clumps are suctioned into the Lipo-Collector, a sterile container in which the fat cells are gently washed and concentrated in preparation for fat grafting. The purified fat tissue is then transferred to syringes, which Dr.Langdon uses to place the tissue in the recipient's breasts.
Surprisingly, fat (adipose) tissue is the body's richest source of adult stem cells. Adult stem cells are present in everyone and are different from embryonic stem cells (the cells that theoretically could be used to "clone" a person). The adipose-derived stem cells are present within the fat cells and have the ability to develop into different cell types including blood vessel cells. When fat tissue is transplanted, as in Natural Breast Augmentation, these stem cells play an important role in supporting the grafted fat cells, because the fat cells need a good blood supply in their new location. The gentle extraction process of the Body-Jet system assures that both healthy fat cells and adipose-derived stem cells are successfully transferred to the recipient site during Natural Breast Augmentation.
Results
Benefits of Natural Breast Augmentation include:
Only safe local anesthesia is used
No artificial materials are placed in the body
Results are lifelong
Take the Next Step – Request A Consultation
To learn more about getting a  Natural Breast Augmentation or to schedule your consultation with Board-Certified Cosmetic Surgeon Dr. Langdon, please fill out the form on this page or call The Langdon Center at  203-453-8625 . We look forward to working with you! The Langdon Center serves patients in the  Guilford & New Haven, CT  areas.
Frequently Asked Questions