No-Scar Breast Reduction
Candidates for No-Scar Breast Reduction
Women who wish to avoid the scarring that results from traditional surgical breast reduction are delighted to learn about No-scar Breast Reduction. The volume reduction from No-scar Breast Reduction can be substantial, especially in larger breasts. Because of unweighting of the breasts and contraction of overlying skin, there is a substantial lift after No-scar Breast Reduction. Women who desire a more dramatic lift and will tolerate increased scarring (and a much longer recovery period) may prefer the traditional surgical lift.
*Individual Results May Vary
Procedure
In women with larger breasts, much of the excess volume is the result of fatty tissue. Just as Dr. Langdon can increase breast size with Natural Breast Augmentation, in which he adds fat to the breasts, he can reduce breast size by removing fat. The reason there is minimal to undetectable scarring in Scarless Breast Reduction is that Dr. Langdon removes the excess fat by using a special liposuction technique with tiny skin incisions and micro-cannulas.
Because larger breasts are mostly composed of fat tissue, a modified liposuction technique can result in significant size reduction. Tumescent anesthetic solution is used to thoroughly (and painlessly) numb the breasts. Then, Dr. Langdon performs liposuction using tiny micro-cannulas throughout the breast. The micro-cannulas are blunt, tube-like instruments that Dr. Langdon gently moves back and forth within the numbed area. The instrument does not harm breast tissue and removes only fat cells. Recovery is rapid after the procedure.
Results
Benefits of No-scar Breast Reduction include the following:
1) Only safe local anesthesia is used.

2) The procedure is nearly painless.

3) Tiny skin incisions (no stitches are needed) and liposuction instruments are used.

4) The recovery is very rapid: 2 to 3 days is typical.

5) Scars are minimal to nonexistent.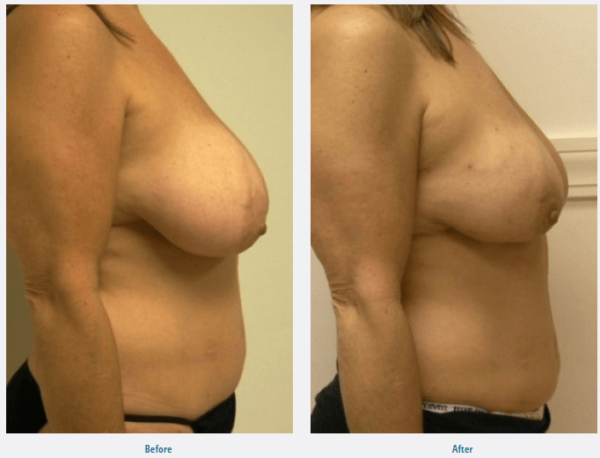 Take the Next Step – Request A Consultation
To learn more about getting a  No-Scar Breast Reduction or to schedule your consultation with Board-Certified Cosmetic Surgeon Dr. Langdon, please fill out the form on this page or call The Langdon Center at 203-453-8625 . We look forward to working with you! The Langdon Center serves patients in the  Guilford & New Haven, CT  areas.
Frequently Asked Questions