Brow Lift (Forehead Lift)
The brow and forehead are often one of the first areas to show signs of aging. Loss of skin elasticity, exposure to sun, and overactive frown and forehead muscles all contribute to the aging process, resulting in frown lines, forehead wrinkles and heaviness of the eyebrows.
Candidates For A Brow Lift
The Brow Lift is particularly well suited for physically healthy patients who have sagging eyebrows, deep horizontal creases in the forehead or frown lines between the eyebrows.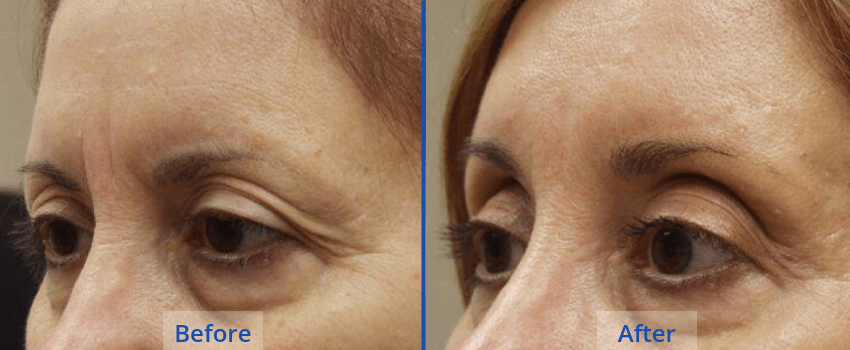 *Individual Results May Vary
Procedure
The brow lift is a remarkable procedure that corrects each of these problems at once. With a brow lift, many of the upper facial wrinkles are improved long term, compared to the temporary results of Botox injections. These include the frown lines (between the eyebrows), the crow's feet wrinkles (in the temple area) and the horizontal forehead wrinkles.
Benefits of Brow Lift include:
Improves brow position
Reduces excess skin of upper eyelids
Minimizes frown lines
Improves crow's feet wrinkles
Reduces horizontal forehead wrinkles
Creates a more youthful and refreshed appearance
Dr. Langdon prefers a simplified subcutaneous brow lift because of its superior results and safety. Because the eyebrows are a cutaneous feature (part of the skin), they are more reliably lifted with a superficial (subcutaneous) release, compared to surgery at deeper levels. A single skin incision is made high in the lateral scalp/temple area on each side. The less-invasive subcutaneous technique carries much less risk of side effects such as temporary numbness of the scalp.
Results
After a Brow Lift surgery, patients will experience swelling and mild bruising lasting approximately 7 days following surgery. Swelling and bruising may be present in the cheek, eye and forehead area. Numbness and itching may be present at the incision sites as these areas begin to heal.
For most patients, recovery time will not exceed 7-10 days. Dr. Langdon will advise you on what to expect after surgery, post-operative care and when you can resume normal activities.
Every surgical procedure carries certain risks and the potential for complications. The potential complications associated with the Brow Lift procedure may include the following: bruising, swelling, sensitivity to anesthesia, infection, nerve injury, and poor healing.
Take the Next Step – Request A Consultation
To learn more about getting a Brow Lift or to schedule your consultation with Board-Certified Cosmetic Surgeon Dr. Langdon, please fill out the form on this page or call The Langdon Center at  203-453-8625 . We look forward to working with you! The Langdon Center serves patients in the Guilford & New Haven, CT areas.
Frequently Asked Questions