Precision Tx™ Laser Facelift
* Individual Results May Vary
Candidates
Interested in a facelift but want to avoid invasive surgery and extensive downtime? You may be an ideal candidate for a laser facelift! The Precision Tx™ at The Langdon Center in Guilford, CT on the Connecticut Shoreline, convenient to New Haven, Branford, Guilford, Madison and Old Saybrook, and Fairfield County, is a minimally invasive facelift alternative with dramatic anti-aging results.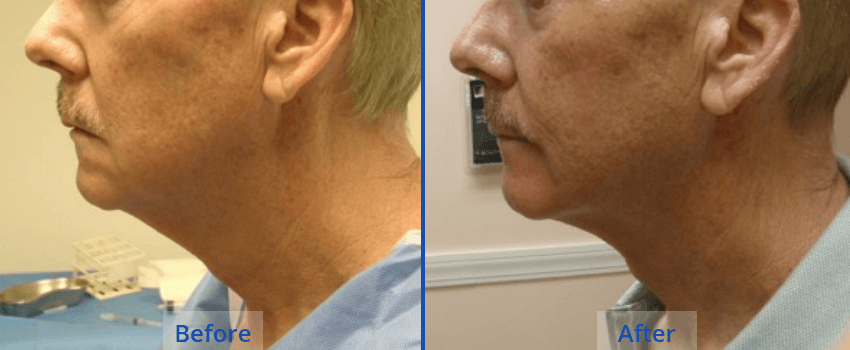 * Individual Results May Vary
Procedure
Revolutionary Precision TX laser technology can safely and effectively help you achieve a youthful appearance, similar to results from a facelift.
Aging of the face and neck occurs in the skin as well as in the deeper tissues such as fat, fascia, and muscle. Sun can damage collagen and elastic fibers in the skin, which then sags and wrinkles under the weight of gravity. Fat may accumulate under the chin and in the jowls but is lost in other areas of the face. As the years go by, underlying fascia and muscle layers stretch because of gravity, resulting in sagging of the jowls, a poorly defined jawline, and a droopy neck. Precision Tx™ facial and neck rejuvenation can help you look as young as you feel by improving both superficial skin wrinkling as well as sagging of deeper tissues for long-lasting results you'll love!
After the lower cheeks and neck are numbed with local anesthetic, the Precision Tx laser energy is delivered via fiber optic through small skin incisions. The 1440 nm wavelength of the Precision Tx laser liquefies fat cells and safely heats the connective tissue in the skin. The collagen in the skin contracts and tightens for several months after the treatment, resulting in a smoother contour of the neck and lower cheek areas as well as a better-defined jawline.
Precision Tx™ can …
Tighten skin on the neck and lower face.
Smooth the appearance of line and wrinkles.
Create a more defined jawline and reduce jowls.
Restore a youthful profile to the neck—no more "turkey neck."
Make you look and feel years younger!
Results
Results can last 5–10 years or more with optimal treatment. Precision Tx™ is not considered a surgical procedure like a traditional facelift is, and therefore has minimal side effects. Any concerns you may have can be discussed during your consultation at The Langdon Center.
Take the Next Step – Request A Consultation
To learn more about getting a  Precision TX Laser Facelift or to schedule your consultation with Board-Certified Cosmetic Surgeon Dr. Langdon, please fill out the form on this page or call The Langdon Center at 203-453-8625 . We look forward to working with you! The Langdon Center serves patients in the  Guilford & New Haven, CT  areas.
Frequently Asked Questions