Laser Tattoo Removal
Remove Unwanted Tattoos Safely with the New PicoSure laser
Candidates for Laser Tatoo Removal
Any area with an unwanted tattoo can be treated with this laser, so those looking for a safe and effective Laser Tattoo Removal are excellent candidates.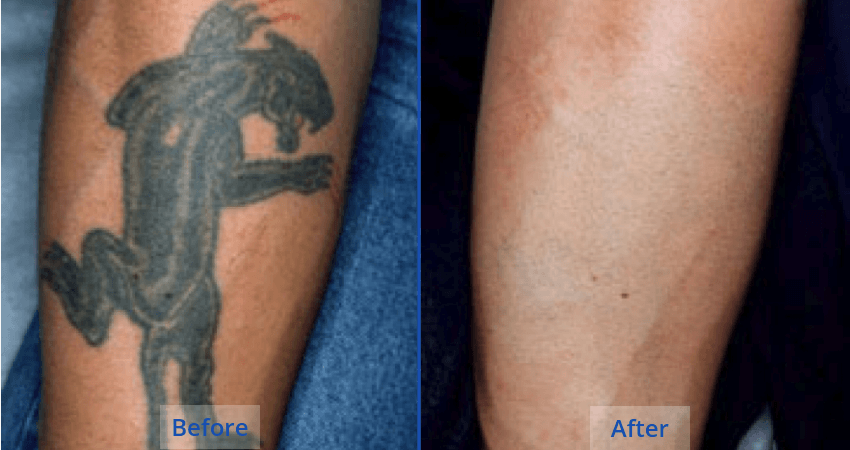 Procedure
Laser Tattoo Removal is accomplished by a specialized "Q-switched" laser that delivers extremely short pulses of high intensity light into the treated area. The tattoo ink particles absorb the laser energy, which causes the particles to break apart. The tattoo ink is shattered into smaller particles that are then safely removed by the body's natural elimination system. Laser Tattoo Removal is a safe and effective method to fade and get rid of unwanted tattoos.
Dr. Langdon was one of the  first physicians  in the United States to acquire the PicoSure laser, the first of a new generation of medical lasers to deliver ultra-short pulses in the picosecond (trillionths of a second) range. (Ordinary Q-switched lasers deliver pulses in the nanosecond—billionths of a second—range.) Clinical studies have proven that PicoSure laser treatments will typically clear tattoos in less than half the time of standard Q-switched lasers, and with less than half the number of treatments. This dramatically increased efficacy is possible because the picosecond-range high energy laser pulses are much better at breaking up tattoo ink particles. The smaller the ink particles, the faster the body can remove them from the skin through natural lymphatic activity.
Now, the Langdon Center is one of a very few laser centers in the country that have two picosecond lasers for tattoo removal. We recently installed the PiQo4 laser, which adds four additional laser wavelengths in the picosecond pulse range. The PiQo4 offers significantly more power than the PicoSure and enables us to treat nearly all colors of tattoo ink.
Results
Although results vary depending on the depth, density, color and location of the tattoo, most patients find that the treated area is indistinguishable from the surrounding skin. In some cases, the skin pigment may be slightly lighter or darker. Patients are able to resume their normal activities immediately following the treatment. Most people experience some redness and swelling and in some cases mild blistering.
Frequently Asked Questions
"I have been having a very large tattoo removed at Dr. Langdon's office, I am getting great results and all the nurses who have worked on me have been great. Very professional and helpful. I cannot wait to see the final results!!"

-Happy Patient
"Very professional. Tattoo removal equipment is the best and so is the staff that operates it."

– Happy Patient
"Great doctor and great staff. Tattoo removal success."

– Happy Patient
Next Steps
To learn more about Laser Tattoo  Removal  or to schedule your consultation with Board-Certified Cosmetic Surgeon Dr. Langdon , please fill out the form on this page or call The Langdon Center at  (844)551-9880 . We look forward to working with you! The Langdon Center serves patients in the  Guilford & New Haven, CT  areas.