Approximately 50 million American men and 30 million American women experience hair loss or baldness, which is most common in individuals over the age of 50. Platelet Rich Plasma (PRP) therapy for hair restoration is a relatively new treatment to stimulate hair growth and reverse hair loss.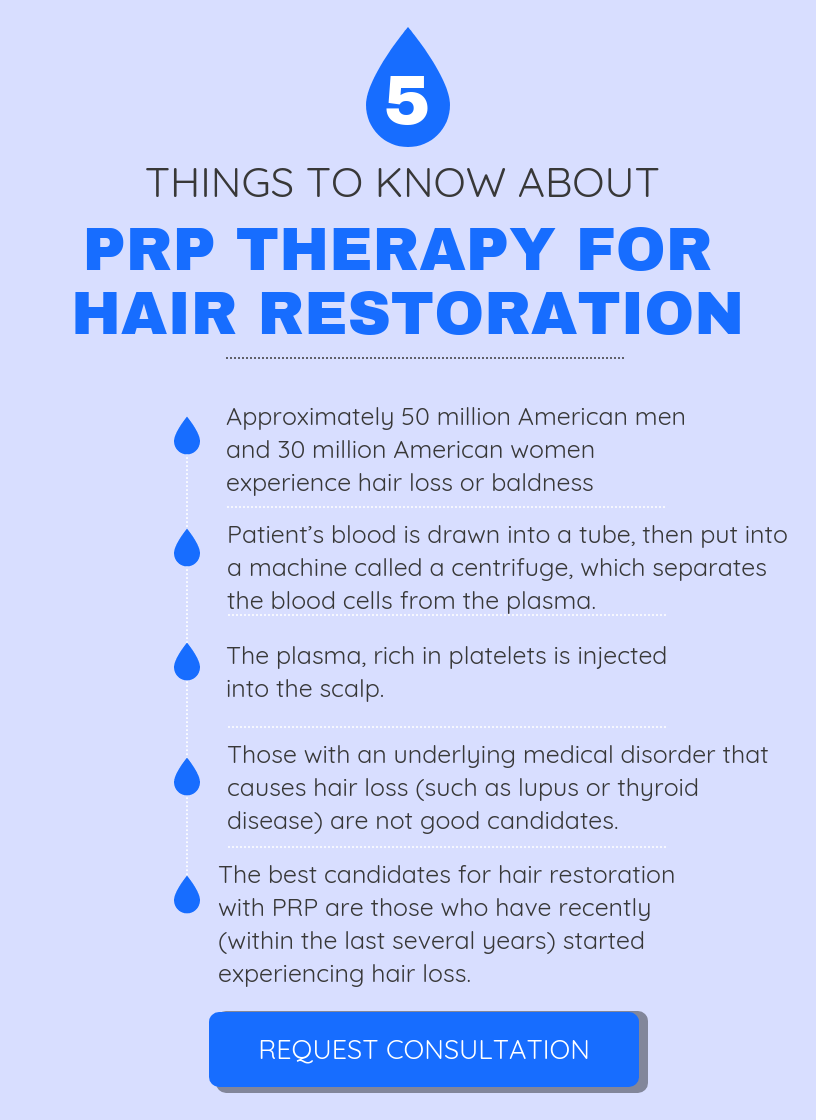 During a PRP procedure, a patient's blood is drawn into a special collection tube; the tube is then put into a machine called a centrifuge, which separates the blood cells from the plasma. The plasma, rich in platelets (a type of blood cell that includes abundant growth-stimulating proteins), is then injected directly into the areas of the scalp where hair loss is occurring.
The best candidates for hair restoration with PRP are those who have recently (within the last several years) started experiencing hair loss. Additionally, PRP is best used for patients with androgenic alopecia, which is a genetically determined type of hair thinning that typically occurs along the top of the head in both men and women. Those with an underlying medical disorder that causes hair loss (such as lupus or thyroid disease) are not good candidates, as the disorder will continue to cause hair loss. If you are on blood thinners, your platelets won't work as effectively and the procedure is not as effective.
PRP can, and should, be part of a multifaceted program to treat hair thinning and loss and is an excellent choice after over-the-counter products such as Rogaine have been tried.
To learn more about Hair Restoration with PRP or to schedule your consultation with Board-Certified Cosmetic Surgeon Dr. Langdon, please fill out the form on this page or call The Langdon Center at  203-745-0340. We look forward to working with you! The Langdon Center serves patients in the Guilford & New Haven, CT areas.