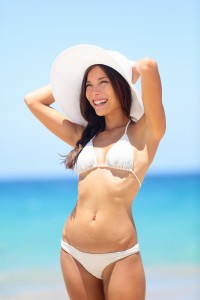 It's time to get beach body ready! The Langdon Center in Guilford, CT offers a variety of body contouring procedures that will help you feel confident in your own body this summer! These include both non-invasive and minimally invasive procedures to fit each patient's needs.
FDA-cleared CoolSculpting in Guilford is a non-invasive method of fat reduction that is ideal for those last few pounds that don't seem to go away with diet and exercise. CoolSculpting literally freezes fat cells beneath the skin's surface. These injured fat cells are naturally eliminated through the body's lymphatic system over the months following the treatment. CoolSculpting at The Langdon Center is used most commonly to treat the abdomen, love handles, muffin top, flanks and waist.
Liposuction removes unwanted fat through small incisions, resulting in a thinner layer of remaining fat. The Langdon Center offers Tumescent Liposuction, a local anesthetic method that is minimally invasive and has a shorter recovery time and much better safety profile than liposuction under general anesthesia. Ideal candidates for Tumescent Liposuction in Guilford are those who have had trouble losing "fatty bulges" through diet and exercise.
ProLipo™, SlimLipo™ and SmartLipo™ are all laser-assisted methods of liposuction. ProLipo at The Langdon Center is best for patients who have loose skin around the area being treated, such as the lower abdomen, thighs and upper arms. Guilford SlimLipo is a laser method that liquifies fat cells before removing them through liposuction. SmartLipo in the New Haven area melts or liquefies the fat before it is removed by liposuction and also seals small blood vessels in the treated area, which minimizes post-operative bruising and speeds recovery.
Achieve your beach body this summer with any of the body contouring options available at The Langdon Center!
Call (203) 745-0340 for a Body Contouring consultation at The Langdon Center in Guilford, CT.