A recent NBC News article cited the amazing continued popularity of Brazilian butt augmentation, or natural fat transfer to the buttocks, nationwide. "According the American Society of Plastic Surgeons (ASPS) in 2013, over 10,000 Brazilian butt augmentations were performed and 30% of surgeons (compared to 19% in 2012) say that they are now doing butt augmentations with extreme success and happy patients," the article claimed. One physician stated, "With J. Lo and Beyoncé and everyone else having a great derriere. … I think people see that and they want it."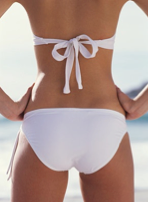 Lipo-augmentation, or fat transfer of the body, can help you achieve confident curves in all the right places just like your favorite stars. Whether your backside has lost volume due to age or if you just want to enhance your existing curves, Brazilian butt augmentation utilizing your own unwanted fat at The Langdon Center is a great option to consider.
Results following fat transfer of the body are long-lasting and will not only give you the butt you desire, but using this natural fat transfer technique will also eliminate fat where you don't want it, as stated, for an overall more desirable figure.
"Using fat is superior to implants because it allows for more control and customization," says Dr. Langdon, New Haven County board-certified cosmetic surgeon and dermatologist. "Our patients are extremely happy with their natural-looking results."
Using local anesthesia reduces the risk for many complications and minimizes downtime. In addition to a natural butt lift, fat transfer of the body can also be used to replace volume to the back of the hands, breasts and face.
If you're interested in enhancing your assets, schedule your consultation by calling 203-745-0340 or email lynn@langdoncenter.com.