At The Langdon Center for Laser & Cosmetic Surgery in Guilford, CT, Board Certified Cosmetic Surgeon and founder, Dr. Robert Langdon, is pleased to offer two options for patients who are looking for significant improvement in their facial and neck profile and appearance.
Take a look to see which one is right for you!
ExpresS-Lift: Looking for similar results to a traditional facelift — without spending hours under the knife or going through intensive recovery? The ExpresS-Lift is an innovative procedure that's the hallmark of Dr. Langdon's practice, and for good reason; it tightens and firms sagging skin without the extensive downtime associated with a traditional facelift.
The ExpresS-Lift works by lifting and correcting sagging skin in the lower face and neck. These areas often develop excessive sagging that results in  the following aging symptoms:
Deep nasolabial folds (the result of sagging of the mid face)
Appearance of jowls in the lower cheek area
Loose, hanging skin and excess fat in the neck
In the ExpresS-Lift the fascia and skin are lifted in a vertical direction, which avoids the unnatural "windswept" look associated with traditional facelifts. There's no need for general anesthesia, so patients spend less time in recovery.
The end result is a restored and youthful facial and neck profile with improvement of saggy jowls, neck fat, and other common complaints!
Precision TX Laser Lift: The Precision TX Laser Lift treatment targets aging symptoms of the neck and lower third of the face. However, instead of manually lifting fascia layers and skin, the Precision TX Laser Lift uses a 1440 nm laser wavelength (delivered through a thin fiber optic) to liquefy fat cells, tighten fascia and skin, and stimulate collagen production in the skin. Tiny skin incisions enable the fiber optic cannula to traverse under the skin.
Over the next several months, the skin continues to contract and tighten, improving the profile of the neck and lower cheeks. Results can last anywhere from 5 to 10 years, making this an excellent treatment for patients who want long-term results without long-term recovery!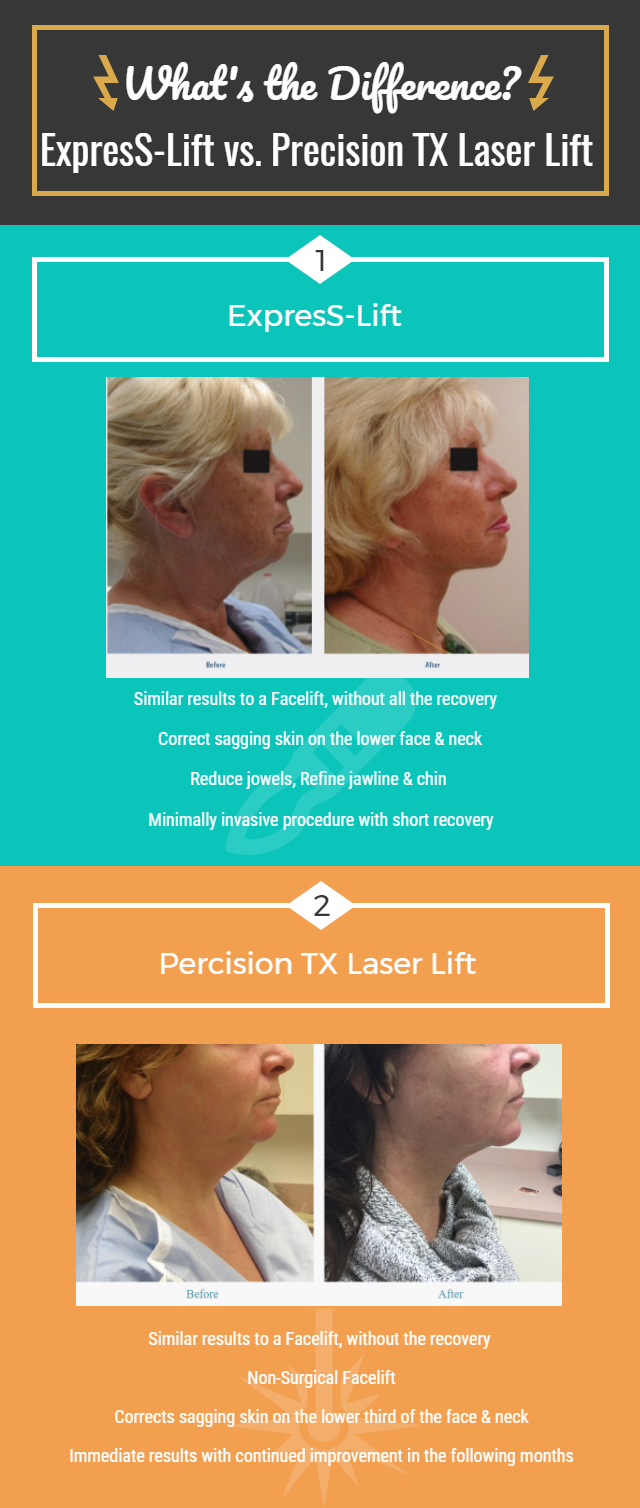 Contact The Langdon Center Today
Want to see if you're a viable candidate for the ExpresS-Lift facelift procedure or the Precision TX Laser Lift? Then schedule a consultation at The Langdon Center in Guilford, CT today and call 203-745-0340.