Zoe Saldana is one of Hollywood's leading movie actresses, having appeared in such hits at Avatar and Star Trek. She recently revealed to Lucky Magazine that she has always envied her more curvaceous friends and co-stars and would love to enhance her own bust in the future.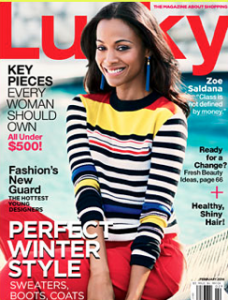 Zoe says, "You always want what you don't have. My whole life I've been obsessed with breasts. I love them. I don't like fake things, but I wouldn't mind buying myself a pair before I die."
Many women can relate to this desire of wanting larger breasts, but, like Saldana, they desire enhancement without the use of artificial implants, i.e. "fake things." This is why we're proud to offer natural breast augmentation, also known as fat transfer to the breasts.
The difference between traditional breast augmentation, which use silicone or saline implants, and natural breast augmentation is that results with fat transfer are 100% natural and natural looking. Natural breast augmentation uses a patient's own unwanted fat to safely and effectively enhance breast size.
Unwanted fat is harvested using a special, minimally invasive liposuction procedure, then purified and transferred to the breasts. Natural breast augmentation is done under safe, local anesthesia, eliminating many of the risks associated with traditional breast implant surgery.
Benefits of natural breast augmentation include:
No artificial materials are placed in the body, eliminating the risk of rupture or rejection ("capsular contracture")
Quicker recovery time than with breast implant surgery – 4-5 days is common
No general anesthesia
Long lasting results
Results that look and feel 100% natural because they are
Natural breast augmentation is a terrific solution for women who want to increase breast volume but want a natural looking aesthetic. It's very popular as part of a "mommy makeover" for women who want to restore the appearance of their breasts to a pre-pregnancy state but cannot or will not undergo invasive surgery and lengthy downtime away from their children. The added benefit of liposuction is also something our Connecticut shoreline patients always seem to love!
To learn if you are a candidate for fat transfer to the breasts, please schedule your consultation. Call 203-745-0340 or email lynn@langdoncenter.com.