New Beauty Magazine, the leading resource for medical spa and cosmetic surgery treatments and procedures, polls hundreds of patients all over the globe each year for their annual Readers Choice Beauty Awards. This issue is considered by many to be the definitive "best of" in the world of beauty.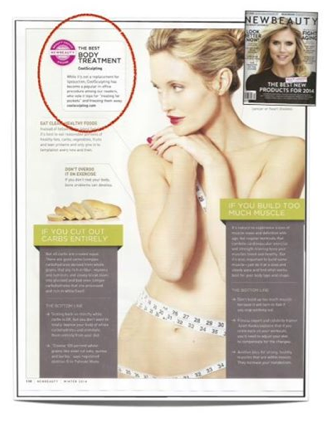 We're proud to announce that CoolSculpting®, offered here at The Langdon Center in Guilford, was voted "Best Body Treatment." Readers believe it's the best option available for treating stubborn fat pockets without surgery or downtime and we certainly agree!
CoolSculpting® is a safe, effective, permanent and FDA-cleared fat reduction treatment. Unlike more invasive procedures, with CoolSculpting® there are no incisions or anesthesia. This procedure freezes and kills fat cells non-invasively. These fat cells are then naturally eliminated from the body in the weeks and months following your treatment.
Results are not immediate, but there is often a dramatic, gradual reduction in fat after undergoing CoolSculpting®. The most commonly treated areas are the abdomen, waist and flanks ("love handles", "muffin top"), back ("bra roll", "back fat") as well as the inner thighs. CoolSculpting® is an excellent option for individuals who are in good shape but have been unable to lose certain bulges despite diet and exercise.
CoolSculpting® provides the following benefits:
Zero downtime

Non-invasive

Safe, effective & FDA-cleared

Clinically proven and permanent results

Performed in office

20-25% reduction in fat following each treatment

Can be an alternative to liposuction for certain candidates
As with any fat reduction procedure, a consultation is needed to discuss your personal goals and to determine the best procedure for you. If you desire true body contouring, and not simply a reduction in fat, liposuction at The Langdon Center in Guilford may be a better solution.
Schedule your consultation today! Call 203-745-0340 or email lynn@langdoncenter.com.