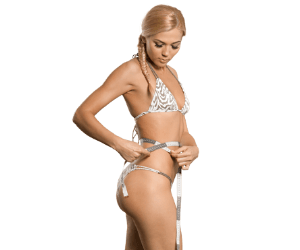 Let's face it — you want to look your absolute best.  But that can be tough to do when certain parts of your body refuse to respond to diet and exercise.  No matter how healthy your lifestyle, there can be pockets of stubborn fat that just won't seem to go away.
That's why you're considering a fat reduction procedure. But with a variety of different types of liposuction out there, as well as some newer non-surgical options for fat reduction, how can you know which one is right for you?
In this post, we'll explore two of the most popular options for fat reduction — tumescent liposuction and CoolSculpting — to explore which procedure might be right for you.
What Is Tumescent Liposuction?
Tumescent liposuction is a minimally invasive surgical procedure in which fat cells are physically suctioned from problem areas. The fat layer becomes "tumescent" when a relatively large volume of dilute local anesthetic solution is injected prior to liposuction. The anesthetic solution completely numbs the fat layer and shrinks small blood vessels, which prevents bleeding during the procedure and results in a fast recovery.
Tumescent liposuction has an excellent safety record and a much faster recovery time than other types of liposuction, but there is a recovery period of a few days.  Additionally, patients experience a certain amount of discomfort during the procedure.
What About CoolSculpting?
CoolSculpting is an FDA-approved, non-invasive treatment designed to destroy fat cells in parts of the body that won't respond to diet and exercise. (For an extensive discussion about this exciting procedure, see our recent newsletter article about CoolSculpting). During the CoolSculpting procedure — which usually takes an hour per area — freezing energy is delivered to fat cells, which are destroyed and eventually removed naturally by the body.
CoolSculpting typically removes about 20-25% of the fat cells that are exposed to the cold temperature.  Many patients opt for a second treatment, which can double the overall fat reduction.
One of the benefits of CoolSculpting is that it delivers fat removal without requiring surgery or recovery.  Patients can return to their normal activities immediately after treatment, making this a great option for busy individuals.
CoolSculpting at The Langdon Center
Ready for a non-invasive approach to fat reduction and inch loss? Schedule your CoolSculpting consultation at The Langdon Center for Laser & Cosmetic Surgery in Guilford, CT today.  Together, you and board-certified cosmetic surgeon Dr. Robert Langdon will determine if you're an ideal candidate for CoolSculpting, and what results you should anticipate from this procedure. Call Us for a Consultation: 203-745-0340