Did you miss Dr. Langdon's recent appearance on WTNH's hit show, "Connecticut Style"? Don't worry if you did — watch the clip here.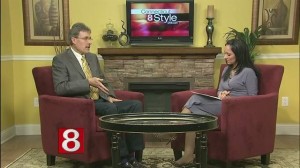 On the show, Dr. Langdon discussed his excitement with the new, non-surgical body contouring method CoolSculpting, now available at The Langdon Center in Guilford.
This fat reduction process requires no surgery, downtime or anesthesia. CoolSculpting kills fat cells below the surface of the skin through a special "freezing" mechanism, while leaving the rest of skin unharmed. CoolSculpting can help reduce areas of localized fat that resist diet and exercise, such as muffin top, love handles, tummy pooch and "flanks."
In the weeks and months following your CoolSculpting treatment, the targeted fat cells are naturally eliminated from your body, resulting in true fat loss and enhanced self confidence.
Ready to learn more about CoolSculpting at the Langdon Center? Visit FatFreezeCT.com or contact us by calling 203-745-0340.