I recently was interviewed on WTNH's CT Style television show (January 20) about the latest trends in body sculpting including advanced techniques for liposuction and for using a patient's own fat and stem cells to augment body areas including the face and breasts.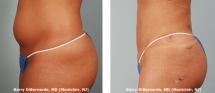 At The Langdon Center we offer more options for Body Sculpting than any other cosmetic center in CT, including Body-Jet water-assisted liposuction; ProLipo laser-assisted liposuction; SlimLipo laser-assisted liposuction; Micro-Cannular liposuction; and Zerona non-invasive laser body contouring. With so many options we are able to treat almost anyone to help them shape, sculpt and contour their body.
Please take a moment to view the segment. If you are interested in a consultation to find out which option is best for you, please call us at 203-745-0340and ask for Colleen, our Patient Coordinator.
Dr. Langdon