Here is a question we frequently hear at The Langdon Center in New Haven County: on what areas of the body can I utilize CoolSculpting, the non-surgical, no-downtime way to reduce fat? We're proud to offer CoolSculpting for a variety of different problem areas that are now treatable thanks to a variety of different size, and shape, applicators.
Curious if CoolSculpting in New Haven, CT may be right for you? Keep reading.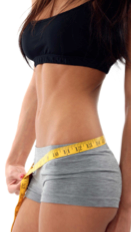 The Abdomen
CoolSculpting was originally developed for freezing and destroying fat cells on the abdomen and it's still as effective as ever for dramatically reducing belly bulge. Whether it's your upper or lower abs that are the problem, abdominal fat is no match for non-surgical, no-downtime CoolSculpting.
Love Handles
It doesn't matter if you call fat on the flanks love handles or "muffin top" because chances are you just want it gone. CoolSculpting is perfect for eliminating stubborn fat on the sides of the abdomen, giving you a slimmer, trimmer silhouette.
Back Fat
As we age, many women notice a sudden increase in fat on the back, sometimes called "bra roll" due to its unsightly appearance when constricted by undergarments. The bad news? It is extremely difficult to reduce with diet and exercise. Not to worry though! CoolSculpting can target bulges on the back easily and effectively.
Inner Thighs
One of the most notorious problem areas for women, CoolSculpting is also available for the inner thighs. If you desire leaner looking legs, CoolSculpting for the thighs may be the non-surgical solution you've been looking for.
Outer Thighs
The latest addition to the CoolSculpting target list is the outer thighs. The new CoolSmooth applicator is specially designed to conform to the shape of this area, enabling the first-ever non-surgical yet effective treatment option for "saddle bags!"
For more information about CoolSculpting in Guilford, CT, visit https://www.langdoncenter.com/body-procedures-connecticut/coolsculpting/
Curious about what CoolSculpting can do for you? Schedule your CoolSculpting consultation! Call 203-745-0340 or email [email protected].