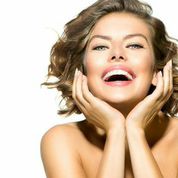 Sagging skin in the neck and loose jowls can be a real problem;
unfortunately, these are common signs of aging. As we grow older, collagen in the skin and fascia layers starts to break down, making these soft tissue layers much more susceptible to gravity. As the skin and fascia stretch, you can look much older than you actually feel.
One of the best ways to treat sagging skin and loose jowls is through a traditional face lift procedure, a surgical technique in which the superficial fascia layer of the neck and lower face is tightened.  However, traditional face lift procedures are often followed by a prolonged recovery period because of extensive bruising and swelling.
Is there a better type of face lift that gives you outstanding results while greatly reducing the post-op recovery period?
Introducing the ExpresS-Lift!
The ExpresS-Lift facelift is the perfect solution for patients who want maximal improvement with minimal recovery time. The ExpresS-Lift face lift is performed using local anesthesia, which provides total numbness (no pain!) and also shrinks small blood vessels, thus greatly reducing post-operative bruising. The procedure can generally be done using a short skin incision, which minimizes any post-operative scarring. The incision is carefully placed around the hairline and the ears, making it inconspicuous after healing is complete and usually not detectable by the casual observer.
A key element of the ExpresS-Lift is that Dr. Langdon detaches the adherence of the superficial fascia layer of the cheek to the underlying cheek bone. This frees the fascia so that the amount of lift of this layer is much greater. A greater amount of lifting will improve multiple areas including the neck, the lower cheek and the mid-face area. The ExpresS-Lift focuses on lifting in a vertical direction, rather than the horizontal direction of older facelift techniques. Vertical lifting means that patients avoid the unnatural tightening effect seen with older facelift techniques, which can often make them look "windswept."
The ExpresS-Lift facelift recovery is significantly faster than that of a traditional face lift. Because of the use of local anesthesia, there is much less bruising and swelling, which allows patients to return to their normal activities as quickly as possible. Most patients look good within a week of the procedure.
The benefits of the ExpresS-Lift include a smoother neck, reduced jowls, contoured jawline, and a more youthful appearance.
Contact The Langdon Center Today
Want to see if you're a viable candidate for the ExpresS-Lift face lift procedure? Then schedule an ExpresS-Lift face-lift consultation at The Langdon Center in Guilford, CT. Call today to schedule your consultation with Dr. Langdon. 203-745-0340