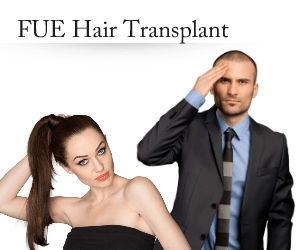 For many people, baldness might be considered a fact of life.  As they begin to lose their hair, they let out a disappointed sigh and shrug their shoulders.  They figure that there's nothing they can do about their hair loss – so why fight it?
But you're not like most people.  As soon as you started to realize you were going bald, you decided you were going to do something about it.  And not just anything – only the very best hair regrowth technique would do for you.
That's precisely why you scheduled a FUE hair transplantation consultation at The Langdon Center for Laser & Cosmetic Surgery in Guilford, CT.
Introducing the FUE Method
The Follicular Unit Extraction (FUE) method is the latest procedure designed to help restore hair growth.  Unlike other hair restoration  methods, there are no stitches or scarring associated with this procedure; instead, a unique tiny punch device is used to individually remove hair follicle clusters and even individual hair follicles from the donor site (The back of the scalp, where hair follicles are maintained throughout life, is the ideal area for donor hair.) These follicles are then transplanted into the grafted  (bald) area, and are placed for optimal, naturally-appearing hair growth on the patient's head.
There are numerous benefits to undergoing the FUE hair transplantation method, including:
No scarring or stitches, which can give away the fact that you had a hair transplant;
Minimal recovery time is required, which means you can go back to work the next day;
Hair is optimized to look as natural as possible, so no one will guess you've had "work done";
This simple procedure is performed right in the office of The Langdon Center (using local anesthesia); and
The results are permanent – which means you won't have to worry about balding in the grafted areas anymore!
FUE hair transplantation is designed to produce natural-looking results without stitches or scarring. That means you can enjoy a head of thicker hair again – without looking like that you had work done.
Contact The Langdon Center for Laser & Cosmetic Surgery Today!
To learn more about this exciting new procedure, schedule a consultation with Dr. Robert Langdon at The Langdon Center for Laser & Cosmetic Surgery in Guilford, CT. Call 203-745-0340  to learn more.