If you were wondering why little pink bows keep popping up everywhere, you're not going crazy. October is National Breast Cancer Awareness month and the pink ribbon is a symbol to spread support and awareness about breast cancer. According to the National Breast Cancer Foundation Inc., women in America get breast cancer more than any other type of cancer except for skin cancer, and it is second to lung cancer as a cause of cancer death in women. Breast cancer may affect you or someone you love, so it's an excellent idea to get familiar with your "girls" big or small, high or low, first set or second pair, because prevention is key!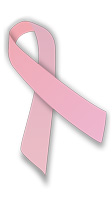 Click here to learn how to give yourself a proper self exam. If you would like to determine your risk factors in developing breast cancer, click here to take an early detection quiz created by the National Breast Cancer Foundation, Inc .
If you are considering breast augmentation but come from a family with a history of breast cancer and worry about the risks of putting a foreign substance in your body, there is a natural alternative here at The Langdon Center for Laser & Cosmetic Surgery. Fat transfers or natural breast augmentations use your own excess body fat to create volume in your breasts. Many women find that fat transfers fall in line with their values and natural, healthy lifestyles.
Call The Langdon Center at 203-745-0340 to schedule your consultation to learn more about Natural Breast Augmentation, or for more information. Or click here to contact us.