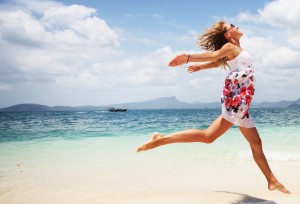 Walk the beach proudly this summer after a SlimLipo™ treatment at The Langdon Center in Guilford, CT. Dr. Langdon's expert fat removal technique will leave your lower abdomen, arms and thighs tight and trim in a matter of hours!
While traditional liposuction procedures simply eliminate fat, SlimLipo's revolutionary technology combines liposuction with laser treatments to tighten skin while removing fat for a more trim, slender appearance. The treatment sculpts your physique and provides a great alternative to tummy tucks, although any part of the body can be safely and effectively treated. SlimLipo in Guilford, CT is performed with and minimal discomfort and downtime so you can resume daily activities soon after the procedure.
Of course ladies aren't the only ones who suffer from stubborn fatty areas; men can also benefit from SlimLipo treatment, especially in the chest or lower abdomen. In a single treatment with Dr. Langdon you can be back to your old self, and live summer to the fullest!
For more information regarding SlimLipo at The Langdon Center in Guilford, CT call 866.976.1029 or email us at info@www.langdoncenter.com and book your consultation today!