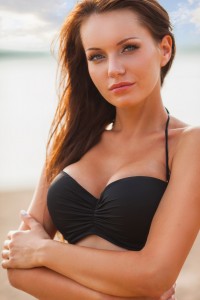 Don't go another second being unsatisfied with your body! Restore your figure and your confidence with natural breast augmentation at The Langdon Center. Natural breast augmentation combines the slimming benefits of body liposuction with breast enhancement, all without the need for implants or major surgery!
Unlike other breast augmentation procedures, which use implants and artificial materials such as silicone, natural breast augmentation in Guilford uses only purified fat tissue from your own body to naturally lift and increase the size of your breasts.  The procedure begins with the use of the Body-Jet liposuction system to remove unwanted fat from problem areas like the abdomen or thighs. The fat is then purified and injected into the breasts to provide permanent and life-changing results. This highly controlled process eliminates the risk of scarring or the unnatural look of the breasts that often follows the placement of implants.
Natural breast augmentation at The Langdon Center can be used to improve the appearance of existing breast implants, as well as to add volume and lift to your breasts while trimming the fat from other parts of the body for a natural-looking transformation.
Why be unsatisfied with your figure when you don't have to be? Call The Langdon Center in Guilford, CT at 866.976.1029 and schedule your consultation today!