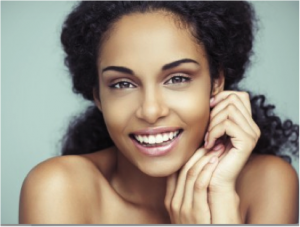 This came as a surprise to more seasoned fashionistas; "After seasons of bold beauty trends like bedazzled eyebrows and violet eyes, New York Fashion Week went for the ultimate makeup fad: simply none at all.
At the Marc Jacobs runway show. models braved the bare face look with "not even one gram of makeup," said makeup artist and NARS founder Francois Nars to Today.com. "This goes back to one of the looks that I've always loved — bare skin, nothing on the face, lips or eye, just beautiful skin."
We want to know – how do you feel about the bare faced beauty trend? Here at The Langdon Center, we also believe healthy, radiant and youthful skin simply never goes out of style. If you're apprehensive about going without foundation and concealer due to insecurity about your skin, learn more about how non-and minimally invasive skin rejuvenation in Guilford, CT can help you achieve complexion perfection.
Photo Facials
If uneven skin tone is causing you to cover your skin in concealer, we urge you to learn more about no downtime photo facials. Photo facials can dramatically reduce hyperpigmentation like freckles, sunspots and age spots; as well as broken capillaries from rosacea or sun damage.
BOTOX® & Dermal Fillers
BOTOX and dermal fillers like Juvederm® and Restylane® are mainstays of skin rejuvenation for a very good reason – they really work! In addition to dramatically reducing fine lines and wrinkles, treatment is both safe and quick, sometimes taking as little as 10 minutes. While Botox offers benefits in as little as a few days, most dermal fillers offer instant, anti-aging gratification.
ThermiSmooth™
ThermiSmooth is a new, non-invasive way to achieve smoother, younger-looking skin. Controlled radio frequency energy gently causes heating and contraction of collagen fibers, resulting in a tightening of the treated skin. It's especially effective for sagging skin on the upper and lower eyelids, giving our patients a wide-eyed, rested and refreshed appearance.
ThermiTight™
Goodbye summer, goodbye sagging skin! This procedure also utilizes radio frequency energy, but instead of smoothing, it tightens and lifts loose, sagging skin. In addition, it's minimally invasive, requires only local anesthesia and poses little to no downtime. How would you like to "fall" in love with your skin this season?
Schedule your personal consultation today! Call (203) 745-0340 or email lynn@langdoncenter.com.