Both the Precision TX and Express-Lift procedures are designed to lift and tighten sagging of the neck and lower face. The difference is in their approach. A Precision TX treatment tightens the skin through the use of laser energy that is delivered beneath the skin through small incisions. An ExpresS-Lift is a surgical facelift in which the fascia layer beneath the skin is lifted into a more youthful position.
Precision TX
Precision TX is a minimally invasive laser procedure in which laser energy is used to heat the skin and stimulates natural healing processes that immediately tighten the skin as well as continuously improve the texture and structure over the next several months. This treatment is usually combined with liposuction of the neck and jowl areas and results in a smoother contour of the neck and lower cheek as well as a better-defined jawline.
With Precision TX, patients experience minimal downtime, and according to a recent study,  have 29% increased skin thickness three months after treatment.
ExpresS-Lift
The ExpresS-Lift procedure is a facelift designed to improve the most visible signs of aging and to restore a more youthful appearance to the face and neck. The procedure can improve the appearance of sagging facial skin of the lower face as well as jowls and loose neck skin. Dr. Langdon performs the ExpresS-Lift using local anesthesia, which greatly reduces bruising, swelling and recovery times.
During an ExpresS-Lift, a small incision is made in front of the ears. The sagging fascial layer beneath the skin is lifted in a largely vertical direction and then repositioned. Excess fat and skin are also removed, so as to achieve a more youthful facial appearance. Similar to other facelifts, an ExpresS-lift rejuvenates the lower portion of the face and neck. The ExpresS-lift also lifts the cheeks, improves the nasolabial folds and rejuvenates the midface. The results of an ExpresS-Lift appear much more natural than conventional facelifts because the more vertical direction of tightening better reverses the effects of gravity.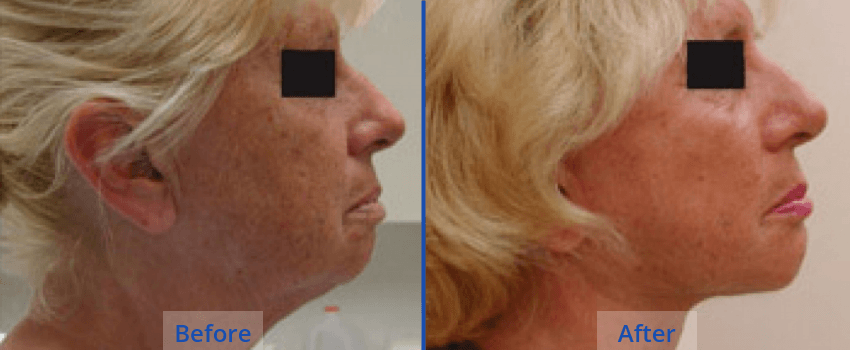 The best treatment for you depends on your unique facial aging condition and goals. Precision TX is a great treatment to treat loose skin and to create a defined jawline and neck. In contrast, ExpresS-Lift is a great procedure for those looking for facelift results in the neck, lower cheeks, and mid-face without the prolonged downtime of traditional facelifts.
To learn about Precision TX and ExpresS-Lift and which treatment is right for you, schedule your consultation at The Langdon Center in Guilford, CT by calling 203-745-0340 or contact us here.