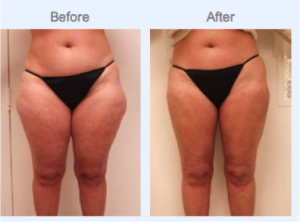 The Langdon Center is proud to be Connecticut's premier non-and minimally invasive body contouring center. We offer the most advanced technology to dramatically reduce unwanted fat and cellulite with little to no downtime. New Haven County, Fairfield County and Middlesex County's most renowned laser cosmetic surgeon, Dr. Robert Langdon, has everything you need to reshape your body and reshape your life!
Do you have areas of unwanted fat on the body that refuse to slim down or tone up, despite diet and exercise? Losing fat sometimes isn't as simple as a healthy lifestyle. If you're suffering from bumps and bulges of blubber, SmartLipo™ and/or SlimLipo™ laser liposuction can permanently slim and trim your shape.
Smartlipo TriPlex is the most advanced laser-assisted lipolysis system available because it safely delivers the optimal blend of three laser wavelengths for better fat removal and enhanced tissue tightening. Because Smartlipo actually tightens skin, you don't have to worry about dimpling and sagging afterward!
SlimLipo is another laser liposuction technology available at The Langdon Center in Guilford, CT. SlimLipo is a minimally-invasive liposuction procedure that painlessly liquefies and removes unwanted fat cells, often in as little as 1 hour. Because the technology is so advanced, few cells besides fat cells are affected, resulting in minimal downtime and little discomfort.
But it's not just unwanted fat that keeps us covered up at the beach. Even the slimmest and fittest among us can experience cellulite. Cellulaze® is the only treatment to attack the structural bonds beneath the skin that are the real cause of cellulite, and all in one safe, effective procedure.
To learn more about our wide array of safe, effective and FDA-cleared body contouring treatments at The Langdon Center, or to schedule your comprehensive consultation, visit www.bodycontouringCT.com.