Think that a slender inner thigh area is only for supermodels? The latest craze to hit Hollywood – "the thigh gap"—refers to the natural gap between the thighs of those with long, toned and slim legs. But we have good news for those of you who are unhappy with fat on the inner and outer thighs (saddlebags) and who haven't been able to achieve a thigh gap: SmartLipo™ laser-assisted liposuction in New Haven County at The Langdon Center in Guilford, CT on the Connecticut Shoreline.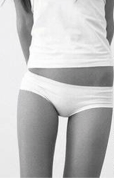 Recently discussed on E! News, "thigh gap lipo" eliminates excess fat from the inner thighs (from the knees up to the groin), so you can love the way your legs look.
With warmer weather approaching—and shorts and swimsuits replacing your winter wardrobe—"thigh gap lipo" with SmartLipo™ in Guilford, CT can help you look and feel your confident best.
Best of all, laser-assisted liposuction offers permanent improvement for areas of diet- and exercise-resistant fat on the body. FDA-approved SmartLipo™ laser-assisted liposuction liquefies fat before it is removed with an extremely small suctioning device (cannula), eliminates the need for stitches and minimizes bruising as well as post-operative discomfort and downtime.
Similar to other methods of liposuction offered at The Langdon Center, such as ProLipo™ and SlimLipo™, SmartLipo™ requires only safe, local anesthesia for a virtually painless "awake" procedure. SmartLipo™ is also enhanced with safety features that control the temperature of the laser, delivering an even amount of energy to the treated area and dramatically reducing the risk of side effects.
In addition to creating the "thigh gap" for thinner thighs, SmartLipo™ is also effective for reducing fat on the arms, flanks (love handles), abdomen, chin (double chin, jowls) and much more.
Schedule your consultation today and learn about how The Langdon Center can help you achieve trim, thin, runway thighs! Call 203-745-0340 or email lynn@langdoncenter.com.