Looking for non-invasive solutions that target and eliminate your most stubborn lines and wrinkles?
You've picked a good time to research – with more anti-aging injectables than ever on the market, there's never been a better time to achieve smoother, younger-looking skin!
But, with numerous options, patients are often left with questions like "what's the difference between Botox and dermal fillers?" Or, "how do these injectables work to target wrinkles?" And, "which injectable is the right choice for my particular needs?"
No need to feel lost among all the options; we'll break down the key differences between Botox and dermal fillers for you: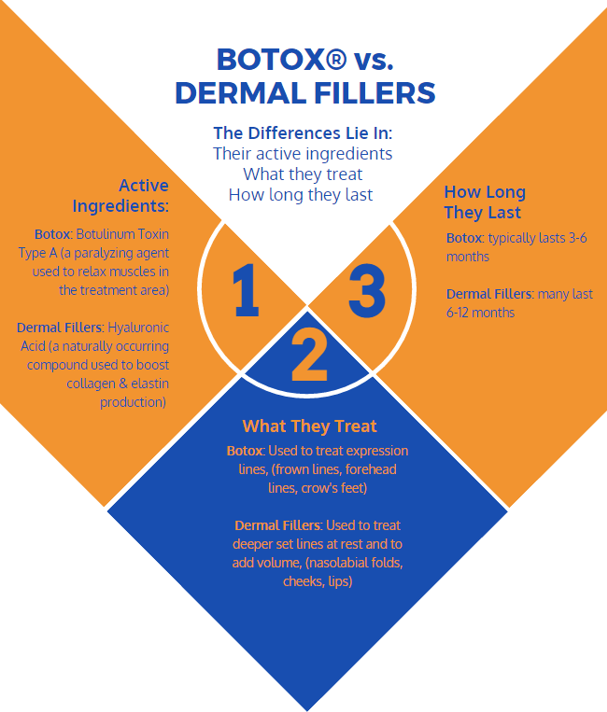 Active Ingredients:
Botox contains botulinum toxin type A, a paralyzing agent that gets injected into the muscles of the treatment area. When the muscle becomes paralyzed, it relaxes the top layer of skin, resulting in a visible improvement in wrinkles and fine lines.
Dermal fillers contain hyaluronic acid, a naturally occurring compound used to boost collagen and elastin production as well as improve moisture retention. When injected in a gel form, hyaluronic acid acts as scaffolding underneath the skin's surface, thus lifting and adding instant volume to the treatment area.
What They Treat:
Botox is typically used to treat areas of expression, for example, frown lines and creases in the forehead region. It can also be used to smooth the appearance of crow's feet around the outer corners of the eyes.
Dermal fillers are designed for treating deep folds and creases around the nose and mouth. Some dermal fillers are developed to address facial wrinkles by adding instant volume to the cheek region, while others are geared towards lip augmentation.
How Long Results Last:
Botox results typically last for three to six months, depending on the number of units used.
Dermal fillers last a bit longer, with many treatments providing results that last between six to twelve months.
Not sure which injectable treatment is right for your anti-aging needs?  Schedule a consultation with Board-Certified Cosmetic Surgeon, Dr. Langdon, at The Langdon Center in Guilford, CT to see if Botox or dermal fillers are more appropriate for your desired outcomes.