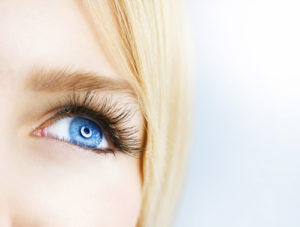 When it comes to looking and feeling your best, sometimes you might need a little more intervention than your usual creams and serums.  That's especially true when you have sagging upper eyelids and puffy under-eye bags.  Excess upper eyelid skin can result from gravity-induced sagging of the forehead and brow as well as volume loss around the eyes. Under-eye fat can bulge and also appear more prominent when the adjacent cheek loses volume with aging.
Sagging upper eyelids and baggy under-eye areas can make it difficult to feel confident about your appearance.  What's more, they can make you look perpetually tired and fatigued, even if you're operating on eight hours of beauty sleep. The eye area is the part of the face that other people look at the most when they interact with you, so this area benefits the most from improvement of the aging process.
In some extreme cases, sagging upper eyelids can even block one's vision, which is why some insurance companies may cover the expense of blepharoplasty procedures.
What's Better: A Laser or a Scalpel?
If you're considering undergoing blepharoplasty — otherwise known as an eyelid lift — you may be concerned about scarring and recovery time.  Traditional blepharoplasty uses a scalpel to make the incision along the fold of the upper eyelid and right underneath the lower lid, allowing the cosmetic surgeon to access fat and excess skin.
However, using a scalpel means that there's a longer recovery period with more swelling and bruising.  That's precisely why more surgeons are foregoing scalpels in favor of laser blepharoplasty.
At the Langdon Center for Laser & Cosmetic Surgery in Guilford, CT, board certified cosmetic surgeon Dr. Langdon uses a CO2 laser as a replacement for a surgical scalpel.  This helps reduce the amount of bruising and swelling, which significantly cuts down on the length of time needed to recover.
That means you spend less time in recovery — and more time enjoying the results of your laser blepharoplasty treatment!
Schedule Your Laser Blepharoplasty Consultation
If you're still wondering if a laser blepharoplasty is right for you, schedule a laser blepharoplasty consultation with board certified cosmetic surgeon Dr. Robert Langdon at The Langdon Center for Laser & Cosmetic Surgery in Guilford, CT today.  Dr. Langdon can help you learn more about how you can eliminate the appearance of sagging upper eyelids and fat bags under your eyes, as well as why this procedure leads to faster recovery times than blepharoplasty with a scalpel.
Call Us for a Consultation: 203-745-0340