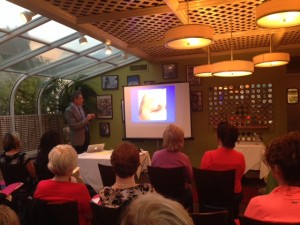 Dr. Langdon's "Younger-Looking You" seminars, held in early May at two popular destinations, Café Allegre in Madison, CT and The Water's Edge Resort and Spa in Westbrook, CT, were a great success! Attendees learned about how to enhance their appearance with the latest advancements in cosmetic procedures. Dr. Langdon discussed treatments that improve skin tone and texture, reduce wrinkles and unwanted fat and even lift and tighten loose, sagging skin on the face and body. All of these treatments contribute to a more youthful appearance.
Dr. Langdon and his team spoke about a variety of facial treatments including the ExpesS-Lift minimum incision facelift, Endoscopic Brow Lift, Botox® and dermal fillers in addition to Laser Skin Rejuvenation and Resurfacing treatments offered at The Langdon Center. Dr. Langdon also discussed body contouring options including Precision Tx™, CoolSculpting®, Smartlipo™ Laser Liposuction and Cellulaze™, as well as skin tightening.
The "Younger-Looking You" seminars included visual presentations, live patient testimonials, before-and-after photos and a "Question & Answer" session with Dr. Langdon and his team.
If you missed the "Younger-Looking You" seminars, don't worry! You can easily contact The Langdon Center for more information!
Call (203) 745-0340 for a consultation at The Langdon Center in Guilford, CT.