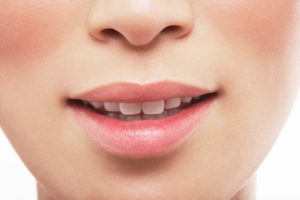 You already know that if you want to look younger for as long as possible, you need to prevent sun damage of your skin. Gravity also takes a toll on the face and neck by causing stretching and sagging of skin. One area of the face that can sag but that is not always considered is the skin above the lips and beneath the nose. Lengthening of this area can cause the upper lip itself to "turn in" and to appear thinner.
Take a close look at your upper lip in the mirror. Have you noticed that the area between your nose and your upper lip has been expanding? Does it look as though your upper lip has become thinner over the past few years?
If so, you may be a good candidate for an Upper Lip Lift at The Langdon Center for Laser & Cosmetic Surgery in Guilford, CT. Board-Certified Cosmetic Surgeon and founder Dr. Robert Langdon is one of the few surgeons in the area to perform this innovative procedure, which is designed to address excessive length (vertical height) between the nose and the upper lip and to provide a more youthful and fuller upper lip.
An Upper Lip Lift shortens the space between the nose and the upper lip. Dr. Langdon uses a scalpel to create a small incision hidden underneath the nose, which allows him to remove a small section of skin and shorten this distance. As the incision is closed, the "pulling up" effect causes the upper lip to "turn out" and to appear fuller.
The greatest advantage of the Upper Lip Lift is that the results are permanent. This procedure is a very cost-effective alternative to "fillers" such as hyaluronic acid, which provide only temporary improvement in lip volume.
You're an excellent candidate for an Upper Lip Lift if your upper lip has been thinning as you've been getting older. You should also be in good health and have realistic expectations for this procedure. Most candidates for the Upper Lip Lift have expressed frustration at the appearance of their upper lip, especially when in a resting facial position (i.e., the mouth is not moving).  Some candidates may even feel that the excessive space between the nose and upper lip has thrown off the proportions of their facial features. Finally, some candidates for this procedure may express disappointment in how an extended upper lip area may hide much of their smile and want to correct this problem.
For more information about the Upper Lip Lift — and to see if you're a good candidate — schedule a consultation with Dr. Langdon at The Langdon Center for Laser & Cosmetic Surgery in Guilford, CT now or call 203-745-0340!