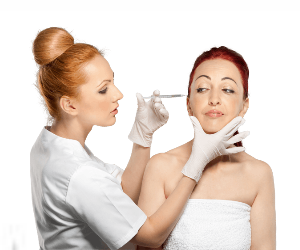 When it comes to smoothing away the appearance of fine lines and wrinkles especially on the forehead you know that Botox is a popular treatment choice. 
But what you may not know is that Botox has lately had some serious competition in the form of Dysport.  This injection is similar to Botox in most ways: both have botulinum type A toxin as the main ingredient, which is used to relax forehead and frown muscles so as to fade the appearance of wrinkles.  Both require regular maintenance, as each treatment only lasts between three to six months.
In fact, there are so many similarities between the two treatments that one could argue there are no differences between the two.
While there are minor differences, they could be enough to influence you on what type of treatment you'd like to use for your forehead wrinkles.  Let's take a look at the differences, and how they could be a determining factor when choosing between Dysport and Botox:
Some studies have suggested that Dysport may have a longer effect than Botox. There seems to be individual variations, so it might be best to try Dysport and decide for yourself.
Dysport diffuses more widely than Botox. If you're looking to treat a smaller area, this could be a negative, as you may want a more controlled treatment.  For example, if you're treating your lip muscles, it might be a good idea to opt for Botox rather than Dysport.
Studies have shown that results from Dysport appear faster than those from Botox (2-3 days as opposed to 4-7 days. If you have an event coming up within the next couple of days, Dysport might be the better option for you.
You may need more units of Dysport to achieve the same results as Botox. However, Dysport is less expensive per unit than Botox, so the cost of each treatment is likely to be the same.
Ultimately, the decision between Dysport and Botox is your own.  If you need more help deciding, schedule a consultation with board-certified cosmetic surgeon Dr. Robert Langdon at The Langdon Center for Laser and Cosmetic Surgery, located in Guilford, Connecticut. 203-745-0340