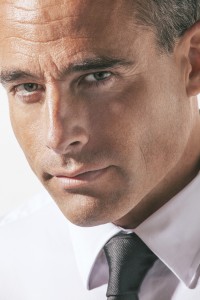 Chin implants are currently one of the most popular cosmetic surgeries for men. A recent New York Times article explains that men desire chin implants to give them more confidence in the workplace. The New York Times reported that out of the Top 50 Fortune 500 companies, 90% of the CEOs had a prominent jawline. Additionally, the number of chin augmentations for men increased 7% from 2000 to 2013, according to the American Society of Plastic Surgeons.
If you desire a strong jawline and CEO confidence, a chin implant at The Langdon Center can help. A medical-grade silicone rubber chin implant adds natural-looking volume to the front and the sides of the chin. The implant is positioned under the skin and muscle, right on the surface of the jawbone. A chin implant in Guilford is an easy and permanent way to create a chiseled chin.
Chin implants improve the balance of facial features in addition to providing a prominent profile. A more defined and strong jaw line can help to give men the CEO confidence they're looking for.
Call (203) 745-0340 for more information about chin implants at The Langdon Center.