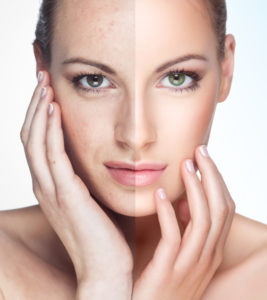 Let's face it: sun damage, acne scars, hyperpigmentation, and uneven
skin tone keep you from feeling your absolute best. That's why you're looking for a different kind of treatment‑ one that will leave you looking years younger while promoting a smooth complexion.
If that's the kind of treatment you've been looking for, then it's time to discover Active FX laser resurfacing at The Langdon Center for Laser & Cosmetic Surgery in Guilford, CT.
You may have heard of Active FX laser but not Enhanced Active FX laser. What's the difference between the two?
Active FX vs. Enhanced Active FX
Active FX and Enhanced Active FX use CO2 laser energy to gently contract the skin. Both treatments will result in peeling of the top epidermis layer of the skin within a few days and are highly effective at revealing clear, glowing skin within a week. Because the majority of pigmented spots reside in the epidermis, Active FX removes most of them in one treatment.
However, Enhanced Active FX delivers the CO2 laser energy at a faster rate (the same total energy is delivered with both treatments). This faster rate of energy delivery results in a significantly greater amount of skin tightening, which can result in dramatic improvement of loose, wrinkly skin in areas like the cheeks and the "crow's feet" around the eyes.
How Are These Different From Other Resurfacing Treatments?
Most fractional laser resurfacing treatments tend to slowly improve the skin's appearance over time; this might not be the right fit for busy patients who want results quickly.  With Active FX and Enhanced Active FX laser resurfacing treatments, there's no prolonged waiting to see results. After a week of peeling, your skin will be looking fresh and renewed.
Contact The Langdon Center Today
If you're interested in learning more about Active FX or Enhanced Active FX laser resurfacing treatments for facial sun damage or hyperpigmentation at The Langdon Center in Guilford, CT, call today to schedule your consultation with Dr. Langdon (203-745-0340.