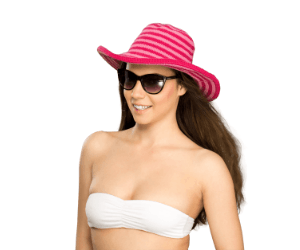 When you were younger, you probably didn't think about how your skin would look in your later years. Instead, you decided to soak up the sun as much as possible. Maybe you skipped wearing sunscreen during a few afternoons at the beach, or you decided to get some color with the assistance of a tanning bed.
No matter what the origins of the sun damage, to your face, now paying for your sun worship in the form of wrinkles, sun spots, and sallow complexsion. To make things worse, you've tried several "miracle" creams or serums and none seem to have significantly improved your skin.
Sound familiar? If so, it's time to put down the skincare creams and pick up the phone to schedule your consultation at The Langdon Center for Laser & Cosmetic Surgery in Guilford, CT.
Erase Sun Damage with Enhanced Active FX
Enhanced Active FX is the best answer to sun spots, superficial lines, and other pigmentation issues caused by years of sun damage. This special CO2 laser resurfacing treatment gently removes the epidermis, home to most pigmented spots. Unlike fractional laser treatments, Enhanced Active FX covers nearly the entire facial surface, thus most skin discoloration in only one treatment. The end result is newer, fresher-looking skin that's free from the signs of sun damage.
Why is it called "Enhanced"?
Compared to standard Active FX, in the enhanced mode the CO2 laser energy is delivered to the skin at a faster rate. Faster energy delivery results in enhanced skin contraction (tightening), which results in superior wrinkle removal. Recovery is still simple, with four to six days of downtown, during which patients need only apply a moisturizer.
Schedule Your Enhanced Active FX Consultation
To learn more about this exciting new procedure for sun damage, schedule a consultation with board-certified cosmetic surgeon Dr. Robert Langdon at The Langdon Center for Laser & Cosmetic Surgery in Guilford, CT today! Call 203-745-0340 to learn more.