When considering a breast augmentation, most women decide between silicone or saline— but did you know there is another option? Natural Breast Augmentation provides safe and lifelong volume enhancement to the breasts using fat from another part of a woman's body. A special liposuction method is used to remove unwanted fat from problem areas. The harvested fat is then purified and used as a fat graft to augment the breasts.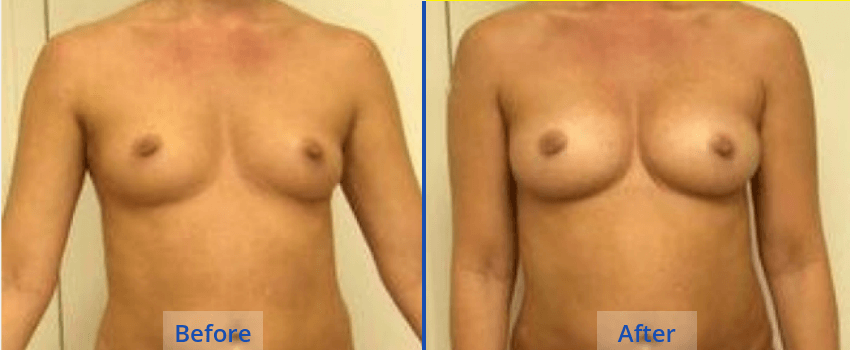 Natural Breast Augmentation is a great procedure for women who prefer a more natural look, especially if they have areas of unwanted fat elsewhere on the body and are candidates for liposuction to reduce these areas.
Not all of the fat in a fat graft will "take" to the breasts and typically the increase in size is about one cup. Women who want a more aggressive increase in breast volume or who are so thin that they lack adequate donor fat would be better candidates for breast implants. However, keep in mind that Natural Breast Augmentation can be performed more than once; the procedures are additive, so a two-cup size or greater augmentation can be achieved with this natural method.
If you have received unsatisfactory results from implants or wish to reconstruct the breasts after a mastectomy, you may be a candidate for Natural Breast Augmentation.
Benefits of Natural Breast Augmentation include the following:
Only safe, local anesthesia is used.

A natural feel is achieved.

Fewer incisions are needed.

A slimmer area of the body where fat is harvested occurs.

No artificial materials are placed in the body.

Results are lifelong.
Silicone and saline implants are great for increasing breast size but often produce an unnatural look. During a Natural Breast Augmentation procedure, fat grafting is used not only to increase breast volume but can also be used to taper the areas surrounding the breasts and can even be used to improve the appearance of existing breast implants, for example, to add cleavage.
Interested in a Natural Breast Augmentation? Call The Langdon Center at 203-745-0340 to schedule your consultation to learn more about Natural Breast Augmentation, or for more information.