Do you have skin laxity, uneven tone, or other issues that have not responded to your skincare products? Microneedling is an effective way to firm and rejuvenate your skin. It also improves your skin's ability to absorb beneficial serums and treatments, letting them penetrate deeper for better results. 
What is Microneedling?
Your skin's firmness and smooth texture come mainly from collagen, a key protein that forms supportive fibers and gives the skin its strength. Microneedling triggers cells in the dermis to increase collagen production. It also stimulates the production of healthy new skin cells that replace dull, damaged ones.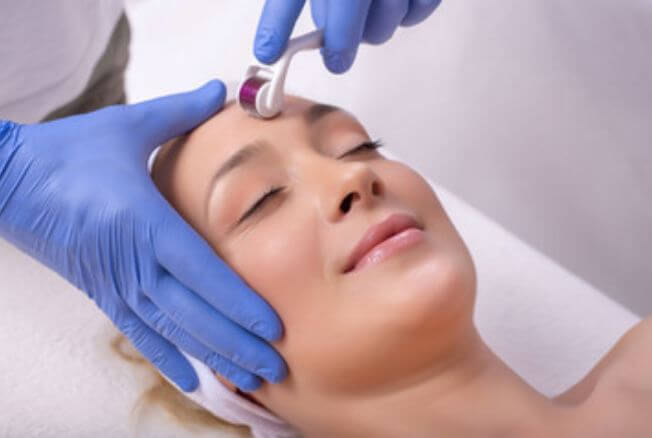 How Does Microneedling Work? 
Microneedling is done with a handheld device that moves over your skin. The tiny needles create microchannels in the skin, triggering an immediate healing response. The cells around these microchannels release biochemical signals that start the repair process. This process replaces old, damaged cells with new ones that have a bright, healthy glow. It also signals the development of collagen that firms and smooths the skin. 
What Should I Put on My Face After Microneedling?
The microchannels created by microneedling allow beneficial treatments to penetrate deeply into the skin. Your skin will feel sensitive for a few days, so you should also be cautious about products that might irritate it. 
DO
Apply non-irritating serums and treatments

Cleanse gently with lukewarm water

Use SPF consistently to protect your new collagen from UV rays

Use a gentle mineral makeup to cover any redness
DON'T
Wash your face with hot water or harsh cleansers

Use exfoliating scrubs

Apply alcohol-based toners or other products
Feel free to ask your Langdon Center skincare specialist for product recommendations. Microneedling provides the perfect opportunity to treat your skin with deep, intensive hydration and other benefits. 
What Can Microneedling Treat?
Microneedling effectively treats a wide variety of skin concerns. Microneedling can dramatically improve skin issues such as:
Fine lines

Skin laxity

Acne scarring

Stretch marks

Enlarged pores

Dull or uneven skin tone

Hyperpigmentation

Sun damage
Microneedling is an excellent choice for those who want to see significantly improved skin with minimal downtime. It can be used almost anywhere on the face or body to address some of your most bothersome skin problems. 
What Results Will I See With Microneedling?
You may notice that your skin looks brighter and more youthful within a few days following your treatment. Development of new collagen begins within a few weeks and continues for several months. Results can last up to a year, and we recommend maintenance treatments every few months to maintain your skin's collagen. 
Am I a Good Candidate for Microneedling?
Good candidates for microneedling want to restore more youthful skin with little to no downtime required. Because microneedling does not use light energy, it works safely on any skin type or tone. Good candidates have reasonable expectations for their treatment results. You may not be a good candidate if you have an active skin condition at treatment time or a history of forming abnormal scars called keloids. 
I had 3 treatments with the PicoSure laser to remove 2 black ink tattoos. The tattoos are 20 years old and located on my ankle and lower back. I previously had 12 treatments with a qswitch laser at Cornell and almost gave up as the results were poor in my case. The PicoSure laser at Dr. Langdon's office was the exact opposite experience. There is much less pain and discomfort with a much quicker recovery time than my Cornell qswitch experience. I hardly noticed any pain after the procedure and even the next day there was no need to address a wound like I did with the Cornell qswitch treatments. The results are unbelievable and the tattoos are now greatly diminished. I anticipate 2 more treatments to completely remove the visible elements of the ink. I also feel the treatment price is fair due to the high cost of this cutting edge laser. It has been a wonderful experience and I would recommend the Langdon center to anyone removing an unwanted tattoo. I was getting very discouraged in the past and the PicoSure laser treatments gave me faith that I will finally be able to remove my tattoos.
Take the Next Step
If you have further questions about microneedling, we encourage you to schedule a consultation at The Langdon Center in Guilford, CT. Call us at 203-453-8625 or fill out our convenient online contact form.