Your skin loses collagen over time, and your cells do not replace it as quickly as you get older. This reduced collagen leads to lines, wrinkles, and laxity of the skin. Microneedling rejuvenates your skin and restores youthful levels of collagen production. It initiates a healing process that leads to smoother, healthier skin. 
How Does Microneedling Work?
Microneedling, also known as collagen induction therapy, uses tiny needles to create micro-channels in the skin. These small areas of damage trigger a natural repair process that helps your skin look brighter and more even. It also activates your cells to produce more collagen, a vital protein that keeps skin firm and smooth. The healing process brings healthy, younger-looking skin cells to the surface for a vibrant glow.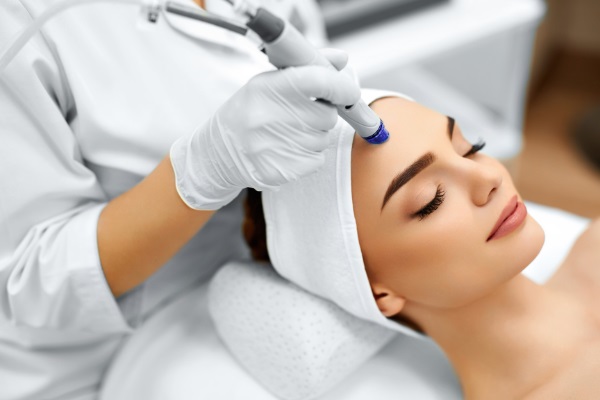 How Long Does it Take to See Results From Microneedling?
Microneedling results take time to develop as your cells produce more collagen. You might notice some results within a week or two. You will see your full results after four to six weeks. We recommend that you schedule quarterly treatment sessions to maintain your youthful collagen levels if you like your results. High-quality skin care products and sun protection will help your results last longer. 
What Can Microneedling Treat?
Microneedling can improve a wide range of skin conditions. Collagen loss causes many of the signs we associate with aging. Microneedling can reverse signs of aging and restore firm, younger-looking skin. Here are some of the problems that microneedling can improve:
Lines and wrinkles

Sun damage

Hyperpigmentation

Skin laxity

Uneven skin tone

Rough texture

Dullness

Enlarged pores

Acne scars
While you may see results from one treatment, most people need several microneedling sessions to see the differences they want. Microneedling also prepares your skin for more deeply absorbing serums and treatments, so your skincare products work even better.
How Much Does Microneedling Cost?
Costs for microneedling depend on your location and your provider's pricing. Different types of microneedling will also vary in price. You can expect an average microneedling cost of between $100 and $700 per treatment. A skilled and experienced microneedling specialist will provide you with the best possible results, so make sure you choose your provider based on factors beyond pricing. 
Am I A Good Candidate for Microneedling?
Microneedling works well for almost anyone who wants to address mild to moderate signs of aging and uneven skin tone. You may be a good candidate if you generally have healthy facial skin. We will work with all candidates to make sure they have reasonable expectations. 
Is There Any Downtime With Microneedling?
You can return to your usual activities shortly after microneedling. You may have some redness that can last a day or two. Some people take a day off to let the redness fade, but most return to their daily routine right away. Use good sun protection at all times because UV rays damage collagen. 
I had 3 treatments with the PicoSure laser to remove 2 black ink tattoos. The tattoos are 20 years old and located on my ankle and lower back. I previously had 12 treatments with a qswitch laser at Cornell and almost gave up as the results were poor in my case. The PicoSure laser at Dr. Langdon's office was the exact opposite experience. There is much less pain and discomfort with a much quicker recovery time than my Cornell qswitch experience. I hardly noticed any pain after the procedure and even the next day there was no need to address a wound like I did with the Cornell qswitch treatments. The results are unbelievable and the tattoos are now greatly diminished. I anticipate 2 more treatments to completely remove the visible elements of the ink. I also feel the treatment price is fair due to the high cost of this cutting edge laser. It has been a wonderful experience and I would recommend the Langdon center to anyone removing an unwanted tattoo. I was getting very discouraged in the past and the PicoSure laser treatments gave me faith that I will finally be able to remove my tattoos.
Take the Next Step
If you have further questions about microneedling, we encourage you to schedule a consultation at The Langdon Center in Guilford, CT. Call us at 203-453-8625 or fill out our convenient online contact form.