Liposuction
Tumescent Liposuction removes stubborn fat with less bruising and a shorter recovery time. This method of liposuction uses a diluted local anesthetic to constrict blood vessels and provide easier fat removal.
Candidates for Liposuction
The best candidates for Tumescent Liposuction are people with normal skin tone who are in good health. They have previously tried to get rid of fatty bulges through exercise and a proper diet. The best candidates also have realistic expectations about their own bodies and understand that Tumescent Liposuction is not a replacement for weight loss.
This service is an excellent alternative to a tummy tuck (abdominoplasty).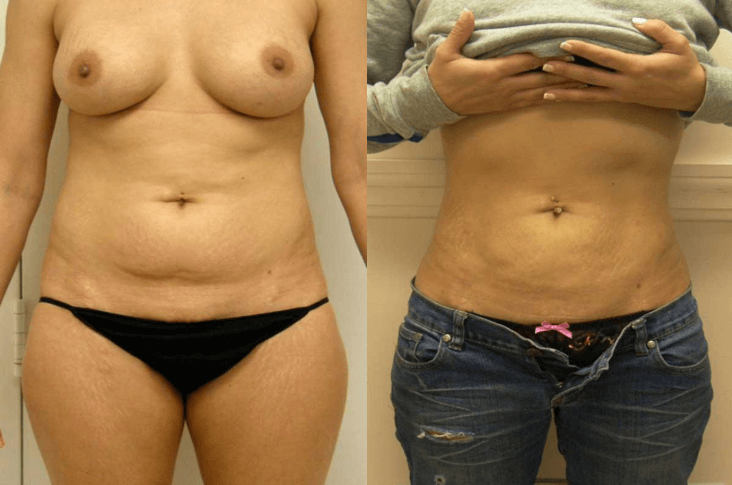 *Individual Results May Vary
Procedure
Tumescent Liposuction is the safest and most effective method of liposuction. In the Tumescent Liposuction technique, large volumes of diluted local anesthetic are used to "inflate" the fat layer. The fat is then aspirated (with gentle suction) through a very small cannula (micro-cannula) inserted through tiny incisions in the skin.
The local anesthetic is so effective that it eliminates the primary hazard of traditional liposuction: general anesthesia. In addition, a small amount of epinephrine is injected along with the local anesthetic to temporarily shrink the blood vessels. As a result, there is insignificant blood loss with Tumescent Liposuction as compared to traditional liposuction.
Some of the many advantages of Tumescent Liposuction include:
Use of only local anesthesia
Shorter recovery time
Less blood loss than traditional liposuction (resulting in reduced post-operative swelling and a quicker recovery time)
Use of tiny micro-cannula reduces bruising and swelling after surgery
Minimally invasive surgery, requiring only tiny skin incisions
Results are smoother and more even without the lumpiness and uneven ridging that are common after traditional liposuction treatments
Best Treatment For
Neck and Jowls
Upper Arms
Abdomen
Flanks
Hips
Buttocks
Inner and Outer Thighs
Knees
Male Breasts
When fat cells are removed from a treated area, they do not return. However, weight gain will cause the remaining fat cells to expand. Liposuction is the only way to remove excess fatty tissue in specific areas of your body. It does not, however, influence long-term body weight.
*Individual Results May Vary
Results
During the procedure, patients generally experience minimal to no pain. For several days following the surgery, patients may have a "sore muscle" feeling as if they have been vigorously exercising. Recovery times vary depending on the body areas that are treated. Most patients return to normal activities within two to three days. For best results, a compression garment should be worn over the treated area for seven days following the surgery.
The results are apparent within a week of the procedure. There is usually still some swelling at this time; even more improvement will be seen in the following weeks. The final results will be evident three to six months after surgery.
*Individual results may vary
Take the Next Step – Request A Consultation
To learn more about getting Liposuction or to schedule your consultation with Board-Certified Cosmetic Surgeon Dr. Langdon, please fill out the form on this page or call The Langdon Center at  203-453-8625 . We look forward to working with you! The Langdon Center serves patients in the  Guilford & New Haven, CT  areas.
Frequently Asked Questions