SlimLipo™ Laser Body Sculpting
Remove Fat For Good | Safe and Effective | Minimal Downtime
Laser body sculpting is the 21st-century solution for contouring your physique and quickly achieving the body you want. SlimLipo™ treats your problem areas gently but effectively — removing fat, tightening skin and reducing irregular contouring.
Candidates for SlimLipo™ Laser Body Sculpting
Every patient is unique. The best way to know which treatments are optimal for you is to see us in consultation.
You are a good candidate if you are looking get rid of localized areas of fat that are resistant to diet and exercise. SlimLipo™ is ideal for body areas in which tightening of skin is important to achieve maximal improvement. Please request a consultation to see if you are a good candidate for SlimLipo™. Because traditional liposuction often results in skin irregularities, such patients are often good candidates for SlimLipo™. Laser body sculpting can gently "melt" remaining unwanted fat, smooth out dents and dimples, and further, tighten the overlying skin.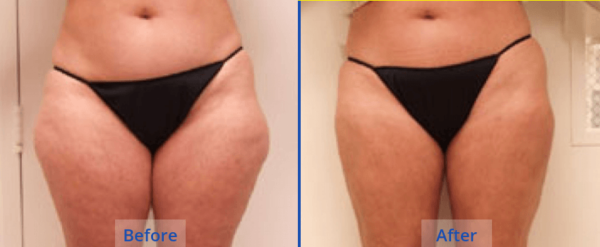 *Individual Results May Vary
Procedure
SlimLipo™ (also referred to as LifeSculpt™) body sculpting is a revolutionary treatment that uses "fat-melting" diode laser technology. Via a few tiny incisions, this patented laser gently "melts" fat that is then removed by liposuction. This superior minimally-invasive technology enables you to achieve a slimmer look with minimal downtime.
You can treat fat on almost any area of your body with laser body sculpting, but the areas that benefit the most from SlimLipo™ treatment include:
Upper Arms
Lower Abdomen
Inner and Anterior (front of) Thighs
Male Breasts
You will be pleasantly surprised by how little discomfort you'll feel. Tumescent local anesthesia is used to completely numb the treated areas. Typically, only one treatment is needed to reach optimal results. Depending on the areas being treated, SlimLipo™ treatment may take from 2 to 4 hours. During your pre-procedure consultation, Dr. Langdon will perform an evaluation and answer any questions you may have.
Results
The recovery time is much less than that of traditional liposuction. Many patients resume activity immediately following the procedure, and may go back to work the very next day. You may see slight bruising which may usually resolve within one week. Compression garments are worn for the first week. We will provide you with post-procedure instructions and what you should expect during your recovery period.
*individual results may vary
Take the Next Step – Request A Consultation
To learn more about getting a  SlimLipo™  or to schedule your consultation with Board-Certified Cosmetic Surgeon Dr. Langdon, please fill out the form on this page or call The Langdon Center at 203-453-8625 . We look forward to working with you! The Langdon Center serves patients in the  Guilford & New Haven, CT  areas.
Frequently Asked Questions