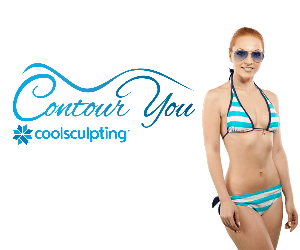 By now, you've probably heard about CoolSculpting: a cool (no pun intended) new treatment that's FDA-approved for body contouring and inch loss.  CoolSculpting represents the perfect blend between innovative technology and patient comfort; this non-invasive procedure is virtually painless and has great patient satisfaction ratings.
Sure, CoolSculpting sounds amazing, but when it comes down to it, how many CoolSculpting treatments will you need?  And how long does the procedure take?
 How Long Does the Procedure Take?
CoolSculpting treatments usually last for an hour, depending on the treatment area. The most common treatment areas include the abdomen, flanks, and thighs.
Most patients feel significant coolness from the device handpiece during the first few minutes of the procedure; however, the treated area quickly becomes numb and patients adjust to the sensation.  In fact, a large majority of patients are so comfortable that they end up reading or taking a nap during their treatment!
Once the procedure is done, you can return to your normal activities.  There's no downtime associated with this treatment, so you can enjoy body-contouring results without taking time away from your busy schedule.
 How Many Treatments Will I Need?
Most patients experience 25% fat cell removal after just a single treatment; these results can usually be seen within two to three months.  It's recommended that patients schedule a second treatment around this time to see their ideal results. Two treatments will usually double the improvement seen with one treatment.
CoolSculpting at The Langdon Center
Discover how CoolSculpting can help you achieve a slimmer and more contoured appearance. Schedule your CoolSculpting consultation at The Langdon Center for Laser & Cosmetic Surgery in Guilford, CT today.  Dr. Langdon was one of the very first CoolSculpting providers in Connecticut; his experience with optimizing applicator placement will assure that you will get the best results. Together, you and board-certified cosmetic surgeon Dr. Robert Langdon will determine if you're an ideal candidate for CoolSculpting, and what you can expect from your treatment.  Call 203-745-0340 to learn more today.